Ram to Watch: Christopher Egelebo is Ready for the Court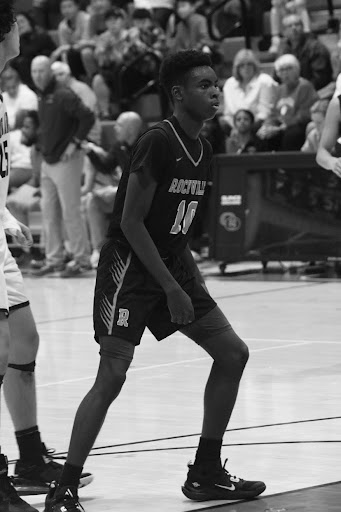 Sophomore Christopher Egelebo has been working hard in practice during this year's varsity basketball season. Egelebo began his athletic journey at RHS playing junior varsity soccer in the fall and junior varsity basketball in the winter of his freshman year. This year Egelebo played junior varsity football in the fall and is finishing the season on the varsity basketball team.
Egelebo explained some of the team's progress as the season continues."During practice we're working harder," Egelebo said. "Recently [the team] found our energy, so as we go on in the season we're going to start doing better, start winning more games and just going to build as a team."
Egelebo has looked up to the seniors on the team to help motivate him to work harder in practice. 
"I'm not at all of their levels, but eventually, I want to be there, or I want to be at a higher level," Egelebo said. 
Egelebo also noted that competition from other teams is another motivator for his success. Being a student-athlete is not an easy task, as balancing responsibilities with athletics can become challenging. Egelebo went on to explain some of these challenges.
"You got a lot of people watching you, so it's kinda hard," Egelebo said. "Getting your school work done because you got practice."
Egelebo emphasized the value of a team and fostering community within that team. 
"Being with my friends, my teammates outside the court too," Egelebo said.
 Egelebo shared some of his goals for the team as well as personal goals for the concluding games. 
"I want us to go on a win streak, as a team," Egelebo said. "I want to get my shot percentages up, limit my turn-overs, and just keep getting better." 
Leave a Comment