Culinary Class Cultures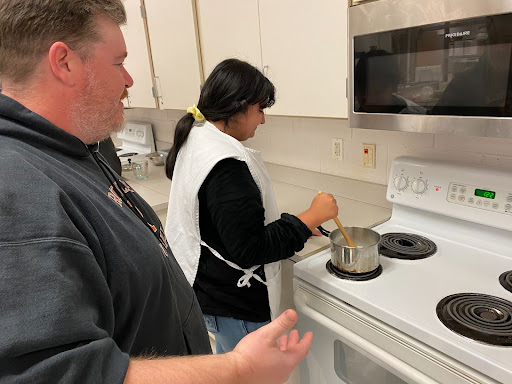 Rockville's Culinary Program is back in action, cooking up a diverse selection of foods and desserts. If you've been smelling something appetizing in the hallways, chances are it's coming from the Food Science Lab room on the third floor. You may see students leaving the class with their carefully crafted dishes and desserts awaiting their first bite. 
Students have been actively participating in cooking labs, starting with basic foods and eventually moving on to more complicated dishes. International Baccalaureate (IB) hospitality management junior student Isabela Moffett particularly enjoys this class as she would like to pursue a career in the culinary field. 
"The stuff that we made in culinary so far have been simple stuff such as brownies, deviled eggs, and different forms of breakfast foods," Moffet said. "Since I have more of a sweet tooth, I'm more excited for all the desserts that we're doing but I also heard we're making meatballs and that's pretty fun."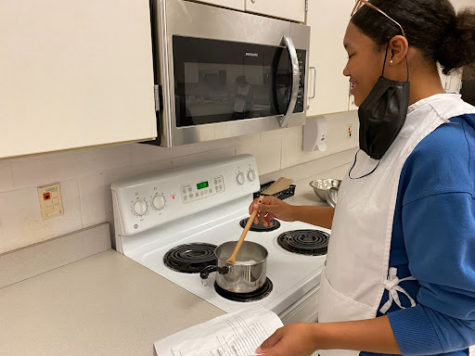 The culinary program at Rockville is a class growing in popularity, with students learning about and making a diverse selection of food from various cultures. Culinary teacher and football coach Jason Lomax hopes to incorporate different cultures into the lessons. 
"I also try to bring in labs based on the background of our student population to celebrate our heritages," Lomax said. 
Before participating in labs, culinary students are taught lessons on a variety of topics to prepare for the food-making process.
"Students learn the ProStart curriculum. It is a curriculum established by the national restaurant foundation to better prepare students. There is technical information to be learned as well as the application of skills through weekly labs," Lomax said. 
Lomax has high hopes that students will see representations of their own culture and learn a thing or two about others as the culinary program will take inspiration for labs from South America, Asia, Europe, and various other regional cuisines from here in the U.S.
Many culinary students find this class one of their favorites and something to look forward to throughout the day.
"But I would say learning what we have learned was quite fun for the first quarter of cooking class," Moffet said. 
The culinary program is actively working to prepare students for a self-sustaining life by ensuring students know the basics and beyond of the culinary world.
The goal of the culinary program is "to complete the program with B's or higher in the two classes and complete an internship, while also passing a certification test so students have some real-world job value from the program when they leave," Lomax said. 
Overall, the culinary program and classes here at Rockville are a great option for students looking to gain or improve their cooking skills and add a diversity of cultures to their cookbooks. 
"Food is expensive. Learning to cook allows you to save money for your family while creating a healthy environment. It also allows people to express their creativity in a hands-on way," Lomax concluded.
Leave a Comment