If These Halls Could Talk: Monica Abuliak Hopes to Help Students Achieve Their Greatest Potential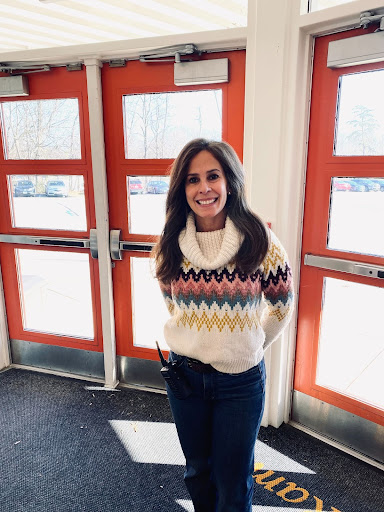 You may have seen her in the first-floor rotunda, greeting students with warm smiles and a welcoming attitude. Monica Abuliak has been an administrator at Rockville High School for seven years.
Abuliak has always been interested in pursuing a career in education. Abuliak studied at the University of Maryland College Park, where she obtained her teaching degree. She initially began teaching at the high school level as a Spanish language and resource teacher in Montgomery County Public Schools.
Abuliak migrated to the Washington region at an early age from Puerto Rico. She often witnessed the lack of diversity in advanced classes that she was a part of and a learning barrier for non-native English speakers in school. 
"So I knew that I wanted to be a teacher, and then it was around that time that I decided I wanted to be a Spanish teacher, to be able to bridge that language need for non-native speakers as well as native speakers," Abuliak said. 
As a high school student, Abuliak attended five different high schools as a result of her family moving a lot. This meant that she couldn't form long-term relationships with one particular school. However, she made sure to connect with her new schools and peers through extracurricular clubs and activities. She led the Future Educators of America as the president as well as of the Spanish National Honor Society, and she participated in the Latinx Leadership club.
Her experiences as a native Spanish speaker have caused her to be heavily involved in the academic achievement of minority students. Abuliak spent sixteen years teaching Spanish and working with students. At this time, Abuliak decided to get her Master's of Educational Leadership and Policy from the George Washington University and become an administrator. 
"I enjoyed working with students, I enjoyed working with families, and specifically, high school has always been my comfort zone, my expertise. I've always been in high schools, and I do enjoy it very much," Abuliak said. "So in 2015, I made the changeover from being in the classroom to being an administrator." She has since spent all her years as an administrator at Rockville. 
New for this year, administrators were assigned to students by grade level rather than alphabetically, like in previous years. Abuliak is in charge of overseeing the ninth-grade students and seniors with last names A-F. Abuliak's hope for freshman students is that they get involved. 
"One of the things that I want to make sure of is that all of my ninth-grade students are involved in something outside of their seven-period day. It could be athletics, whether it's a fall or spring sport, it can be something related to our extracurricular activities, whether it's stem club, Latin dance, or theater. I want to see them engaged in something that's enriching," Abuliak said. 
Abuliak also noted her academic goals for her freshman students navigating high school. 
"You want to make sure that your students are in the highest level of classes, that they're pushing themselves to be able to have many opportunities when they graduate from high school," Abuliak said.
Abuliak's outlook on administering a school has evolved over the course of the last few years due to the COVID-19 pandemic, where for one year, in-person connections were limited with students. 
"Coming out of the pandemic, you saw a need for students to want to, or need extra support, whether it was in their own personal relationships, their relationship with school, and how they saw themselves as students in person again," Abuliak said.
Abuliak has always advocated for students and the school community at large. Her support and dedication to students and staff have even earned her the Agnes Meyer award in 2015, an award given to outstanding teachers in the Washington region.
Abuliak is not only interested in students' academic success but the successes of students both in and out of the classroom.
"I love to hear about student successes, I love to hear about decision-making," said Abuliak.
Freshman Zoe Upton has witnessed Abuliak's investment in students. "I see her in the hallway sometimes just like chatting with students," Upton said.
Abuliak also wants to get to know students while they get to know her.
"I enjoy very much spending time with my family. We have a boat, so we like to boat, we like to fish. We also like to golf a lot. We enjoy cooking dinners at home," Abuliak said. "We love traveling, so anytime we have the opportunity, we do go to the beaches either in North Carolina, Alabama … But really just enjoying time with friends and family, either involved in an outdoor activity, or traveling or just being at home enjoying a nice dinner, and yoga."
Abuliak is very invested in the student body and hopes to continue hearing about student success. She is always willing to talk and help students through anything that they may have going on. She encourages students to push themselves and leave high school prepared for college and a successful career.
"But I do hope, and I wish that they would always feel comfortable, and trust that they could come and talk to me about whatever it is that they're going through," Abuliak said.
Leave a Comment