Krawczel's Skills Kill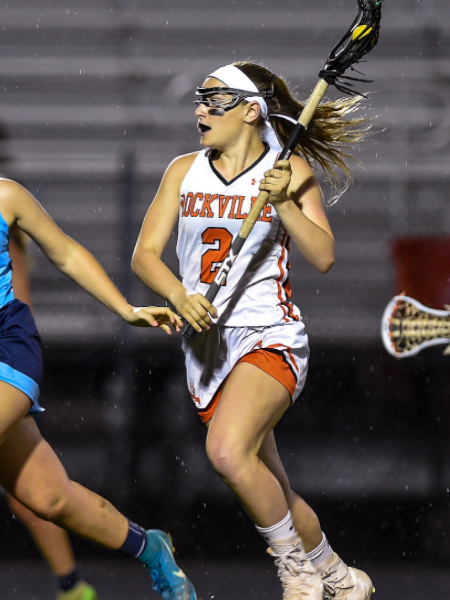 Freshman midfielder Paige Krawczel had a stand-out season on the girls varsity lacrosse team, earning her starting midfielder position and being tied for most points on the team.
By the end of the season, Krawczel had 38 goals and 14 assists, tying senior Nycole Hidalgo for the most points on the team at 52. Many players do not even reach 34 goals by the end of their high school lacrosse seasons, yet Krawczel has already accomplished this and more as a freshman.
Krawczel attributes her success to preparation and practice, she said. A lot of work at team practices and outside of practice allowed her to excel in lacrosse.
"She pushes herself as hard as she can during practice," varsity girls lacrosse head coach Will Morris said.
Krawczel spends many hours perfecting her game during the week on her own time. On days when she doesn't have any team activities, Krawczel spends hours throwing the ball at a wall, working on stick skills and crafting her game.
Outside of RHS, Krawczel has been playing club lacrosse for most of her life. She currently plays on Heroes Lacrosse in Maryland, which is ranked as fifth in the United States. Playing at such a high level helps contribute to what she brings to RHS, she said. In some games, Krawczel is playing against players as much as four years older than her.
"I don't let the older and bigger girls intimidate me," Krawczel said. "I don't really think about the ages. I just try to play my game no matter what."
With the help of Krawczel, girls varsity lacrosse finished the regular season with a 9-3 record. Large victories against Richard Montgomery HS and Blake HS helped build momentum for the team to continue their dominant season. The Rams finished the season 10-4, falling to the Westminster Owls in the sectional finals of the playoffs.
"The last time we beat [Richard Montgomery] was seven years ago and we also beat Blake," Krawczel said. "We are a really hard working team in practice and it pays off in games."
Leadership is also a role most freshman do not take on, but Krawczel manages to lead her team each time they suit up and run onto the field. Her work ethic and teaching abilities allow her to become a leader and role model on the field.
"Paige is super athletic and her ability to utilize both hands is really helpful," sophomore captain Kate Holland said. "She also has very good field vision and makes great offensive plays."
As a freshman, Paige said she hopes to have many more successful seasons ahead of her as she continues to build upon her skills.
"I out-hustle girls on the ground balls, get open shots on attack, take good shots and play smart," Krawczel said. "By my senior year, I hope to have scored 100 goals or more. I hope we can continue beating Blake and RM. I also hope to be committed to a D1 school by junior year."