Rams to Watch: Freshman Athletes
June 14, 2018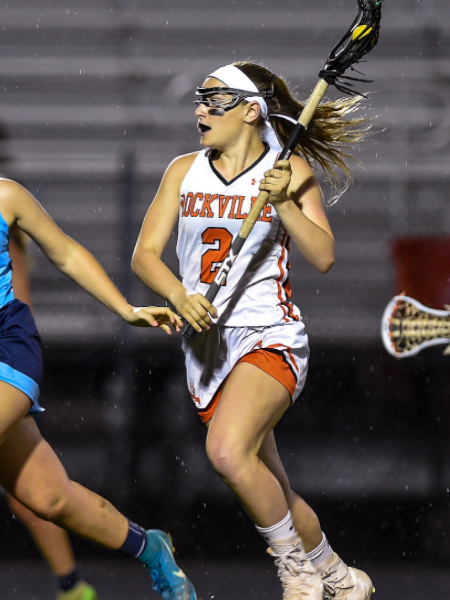 Photo Courtesy of Paige Krawczel
Krawczel's Skills Kill
Freshman midfielder Paige Krawczel had a stand-out season on the girls varsity lacrosse team, earning her starting midfielder position and being tied for most points on the team.
By the end of the season, Krawczel had 38 goals and 14 assists, tying senior Nycole Hidalgo for the most points on the team at 52. Many players do not even reach 34 goals by the end of their high school lacrosse seasons, yet Krawczel has already accomplished this and more as a freshman.
Krawczel attributes her success to preparation and practice, she said. A lot of work at team practices and outside of practice allowed her to excel in lacrosse.
"She pushes herself as hard as she can during practice," varsity girls lacrosse head coach Will Morris said.
Krawczel spends many hours perfecting her game during the week on her own time. On days when she doesn't have any team activities, Krawczel spends hours throwing the ball at a wall, working on stick skills and crafting her game.
Outside of RHS, Krawczel has been playing club lacrosse for most of her life. She currently plays on Heroes Lacrosse in Maryland, which is ranked as fifth in the United States. Playing at such a high level helps contribute to what she brings to RHS, she said. In some games, Krawczel is playing against players as much as four years older than her.
"I don't let the older and bigger girls intimidate me," Krawczel said. "I don't really think about the ages. I just try to play my game no matter what."
With the help of Krawczel, girls varsity lacrosse finished the regular season with a 9-3 record. Large victories against Richard Montgomery HS and Blake HS helped build momentum for the team to continue their dominant season. The Rams finished the season 10-4, falling to the Westminster Owls in the sectional finals of the playoffs.
"The last time we beat [Richard Montgomery] was seven years ago and we also beat Blake," Krawczel said. "We are a really hard working team in practice and it pays off in games."
Leadership is also a role most freshman do not take on, but Krawczel manages to lead her team each time they suit up and run onto the field. Her work ethic and teaching abilities allow her to become a leader and role model on the field.
"Paige is super athletic and her ability to utilize both hands is really helpful," sophomore captain Kate Holland said. "She also has very good field vision and makes great offensive plays."
As a freshman, Paige said she hopes to have many more successful seasons ahead of her as she continues to build upon her skills.
"I out-hustle girls on the ground balls, get open shots on attack, take good shots and play smart," Krawczel said. "By my senior year, I hope to have scored 100 goals or more. I hope we can continue beating Blake and RM. I also hope to be committed to a D1 school by junior year."
Leave a Comment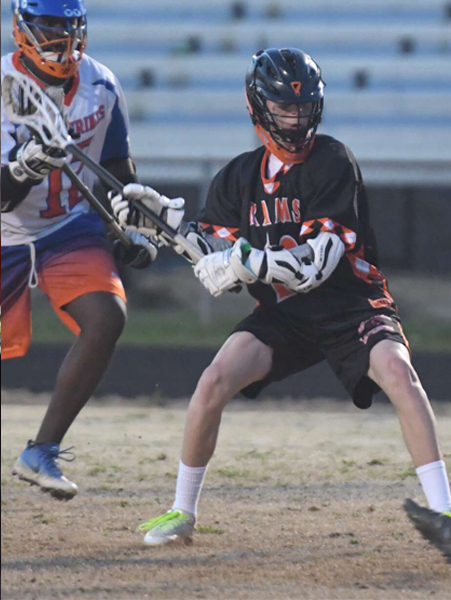 Kren Sticks Competition
Freshman Timothy Kren has grown to be a centerpiece for the varsity boys lacrosse team this season as a starting attackman. Kren finished in the top three on the team for both goals and assists, behind junior midfielders Ryan Kelly and Jonathan Brake.
Kren has been playing lacrosse since the second grade and has played for multiple teams including Maryland Xtreme, DC Express and Bethesda House.
While freshman defenseman Eric Giron and freshman midfielder Jordan Ibrahimi both contributed to the varsity team, Kren was the only freshman to be on varsity full-time and start in all the games he played.
"Timmy was around constantly in the offseason from the very beginning of their summer league, to every workout that we held," head coach Jesse Rutter said. "Throughout the offseason he was there working his butt off, never complaining and always leading by example."
Kren normally played the X position (behind the net) and utilized dodges around the crease and cuts to get the ball and score. Kren also excelled at initiating the team's offensive sets from the X position and finding open cutters.
"Timmy was easily the best freshman. He's great at controlling the ball and running our offense from X," Kelly said.
The Rams finished the regular season 7-5, but had several injuries going into the playoffs, losing to the Magruder Colonels who only had one win during the regular season. The disappointment of being upset has helped motivate Kren to improve in the offseason.
"This summer I'm going to play summer league lacrosse for Rockville to stay in shape, and I'm also going to work on my speed and agility. I'm not normally one of the faster players on the field," Kren said.
Despite missing three games due to a concussion, Kren finished the season with 18 goals and 11 assists.
"[Timmy's concussion] had a really really big effect on the team; it spoke to how quickly he fit into and ran our offense successfully," Rutter said. "While he was out, you could see the ball start to stick and the offense not to move as smoothly, and we really realized how much of an impact he had on the team."
Kren was named MCPS division player of the week after his performance in the team's first regular season game against the Gaithersburg Trojans. He finished the game with eight total points, having five goals and three assists.
"I knew he was good after watching him in the summer, but to put up a point total like that in his first varsity game as a freshman was definitely eye opening," Rutter said.
The passion Kren has for lacrosse is prevalent, Krens skills are recognized by many including his teammates.
"He's definitely going to be a star for his next three years on the team," freshman teammate Brendan Stewart said, "he always came to practice and games ready to play even when he was injured."
Leave a Comment