March Madness Ensues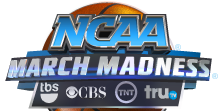 As March comes around and students try to survive until the start of spring break, one of the main sources of entertainment (and procrastination) is the National Collegiate Athletic Association (NCAA) basketball tournament March Madness.
The NCAA tournament features 64 teams, all which compete to be named the number one college team in the country. The tournament has four regions, and in each region teams are seeded from 1 to 16 in rank. In the first round, the best teams play the worst teams. After that, the tournament starts to heat up. You can see the full bracket here.
Some teams have to win a game just to be one of the 64 teams in the tournament. These teams have to compete in what is called a play-in game, which is when they play another team that has a chance of being in the tournament. The winner gets to play in March Madness.
There are four play-in games this year. These include Clemson vs. University of Alabama Birmingham (UAB), University of Texas-San Antonio (UTSA) vs. Alabama State (ALST) , University of Southern California (USC) vs. Virginia Commonwealth University (VCU) and University of North Carolina-Asheville (UNCA) vs. University of Arkansas-Little Rock (UALR). Clemson beat UAB, UNCA beat UALR, VCU beat USC and UTSA beat ALST.
One of the most entertaining parts of the tournament for students is filling out your own tournament bracket. People print out a bracket and try to predict the games. They guess who will be in the championship and who will win it all. There are many competitions for who has the best bracket, including some that offer a million dollars to the person whose bracket is completely correct.
Many students make "bracket pools", where each person puts in a bracket and a small amount of money. The money could just be five dollars a person. Then the person with the most accurate bracket wins all the money. In some pools the money can add up to almost a hundred dollars.
Making a bracket pool makes the tournament more exciting for some students because it gives them a reason to cheer for a team. They want their bracket to be correct, so they root for the teams they picked. Sophomore Sam Sigel said, "Having a bracket gives me a reason to watch all the games because I want my teams to win."
Related Media: NCAA Brackets