Boys Tennis Season Preview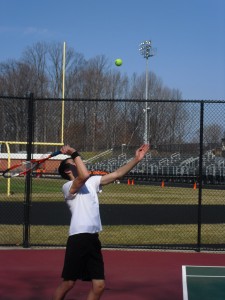 With several championship titles on record, an experienced coach and a roster of well seasoned players, the boys tennis team plans on continuing their success throughout the 2011 season.
Coached by physical education teacher Frank Weaver for the past eight years, the RHS Boys Tennis team has had repeated success every season."[Weaver] is a great coach…he knows what he is doing," said freshman David Nguyen. Weaver expects a lot from his players and those high expectations are sure to lead to another successful season.
There are two hour practices scheduled everyday of the season to prepare the players for their meets. The team practices many drills to help strengthen each player's skills in the game of tennis. Players are also subject to plenty of conditioning to raise their endurance and speed while moving around the court. Intense, daily practices are essential to succeed each season.
For the first time in the team's history, players had to be cut. The cuts were a result of a huge increase in players at tryouts. Previous players who did not show improvement were cut to make room for new players. Said Weaver, "I feel bad [cutting players] because we had good players tryout."
The player cuts resulted in the very best players staying on the team. Both veteran and new players fill the roster this year. With a strong team of players and faith in their coach, the team aims to take home another championship title for RHS. The team practices hard and daily, making them tough opponents to the other competing schools.
Matched up against last year's undefeated Thomas S. Wootton High School's tennis team for their first meet, the Rams have practiced hard to start their season right. "[Wootton] is a very tough match for us but we should be ready," said junior, player Sunand Krishnan. Expect to see the Rams bring their best game to the courts in the 2011 season.