RHS Athletes Continuing in College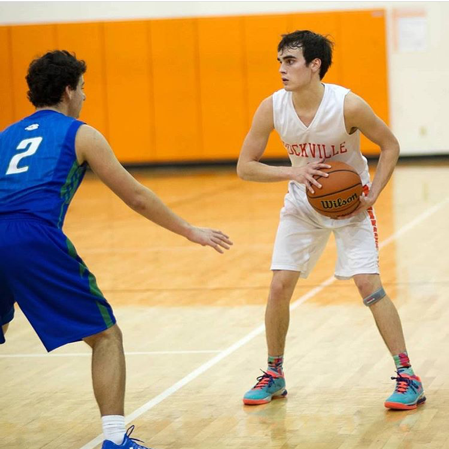 Most students can only dream about playing a sport in college or beyond. In fact, the National Collegiate Athletic Association (NCAA) says that of the eight million students currently playing varsity sports in high school, only about 480,000 of them end up competing for an NCAA school. For 15 talented student-athletes of the 2016 graduating class at RHS, there is a future in sports after high school.
Senior Paige Hailstock is one of these athletes. She will be playing basketball at Wesley College in Dover, Del., next fall.
"I am so excited to play basketball for Wesley next year," Hailstock said. "I think it will be a challenge to balance my school work and basketball, but I think the hard work will be rewarding. I'm really looking forward to it."
For most students fortunate enough to pursue athletics in college, education is the primary goal; student-athletes compete with this in mind. For all but the most gifted, there is not a career in professional sports. What truly sets the student-athlete apart is the experience and life lessons learned while attending college. These lessons help make them successful as they pursue careers in their fields of interest outside of athletics. Student-athletes have a higher graduation rate than their non-athlete peers and this rate continues to rise each year.
The RHS class of 2016 will graduate a total of 15 student-athletes who have decided to pursue their chosen sport at the next level. Four of these students will compete at Division 1 schools. These students include: Andre Sturniolo (Tennis-University of Maryland, Eastern Shore), Aiden Perrenoud (Rugby-West Virginia University), Griffin Alaniz (Swimming-Florida State University) and Skye Nielsen (Cheer-Towson University).
"This is a great representation for RHS," Athletic Director Michael Hayes said. "I truly believe that these student athletes will do a fine job representing our school as well as our community."
The rest of the athletes will compete at Division 3 schools. These students include: Paige Hailstock, Essex Thompson, Brandon Geddes, Marco Ramirez, Hazel Carmona, Mickey Van Giesen, Erik Blautzik, Manny Essien, Ben Wiebusch, Danny Emond, and Alexander Nagy.
"I am really excited I have the chance to play football at the next level," senior Manny Essien said. He will be attending Stevenson University in the fall. "I was worried that because of my injury setback last summer, I would not achieve this opportunity."
Fewer than five percent of all high school athletes go on to play collegiate sports with fewer than one percent playing at the Division 1 level.