Holocaust Survivor Comes to RHS to Share Unique Story with Students (Part Three)
Hang on for a minute...we're trying to find some more stories you might like.
152 total views, 0 views today
This is the third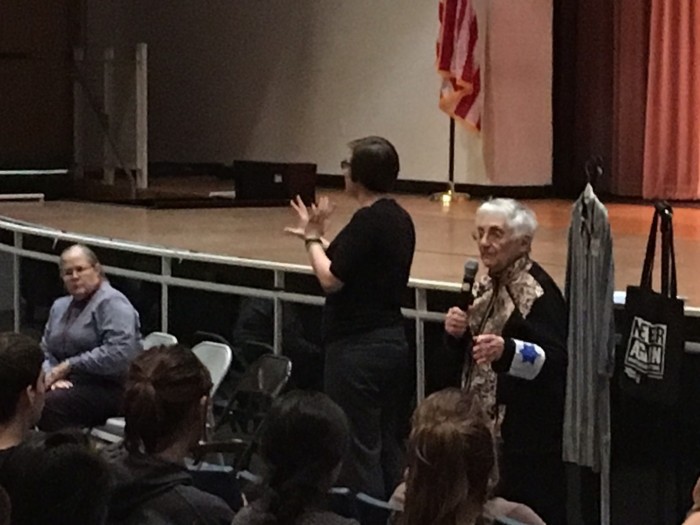 installment in a three-part series about the life of Holocaust survivor Edith Lowy.
After the war ended, Lowy moved to Israel, where she served in the army for three years. She then immigrated to the U.S. Fifteen years ago, she retired from her teaching job at Charles E. Smith Jewish Day School (JDS) in Rockville, Md. The school still invites her back every year to talk to first-graders about her experiences during the Holocaust.
Lowy said that on several occasions, the first-graders became very sad upon hearing that she could not find Rudolf's comb after the war ended. They would draw pictures of the comb as they imagined it and give them to Lowy, along with letters expressing their condolences.
Several years ago, Lowy told her Holocaust story at a conference for educators, as part of an assignment given to the participants to write about a stepping stone in their lives. After the conference, a younger woman named Sally approached her and thanked her for telling her story. Sally had said she felt moved by the way in which Lowy had survived through all of the horrors she had endured during World War II. She and Lowy became friends, with Lowy acting as a mentor to Sally, who was suicidal at the time and had recently escaped a bad relationship with her parents.
After hearing the story about the comb, Sally decided to give Lowy a gift that she still holds close to her heart. She made contact with an artisan and paid him to make a new, personalized comb for Lowy. Not long afterwards, though, Sally was in a fatal car accident.
When she finished telling this story and that of the death march from Buchenwald to the RHS audience, Lowy turned to giving the students some heartfelt advice. "Don't take anything for granted," she told them. She also reminded the students of their responsibility as her audience, saying, "It's up to you now to keep your eyes and hearts open. It [genocide] has to be stopped when it starts."
In a written message given to RHS students after she concluded her presentation, Lowy expressed her sense of responsibility to those who had perished during the Holocaust, her gratitude towards those who risked their lives to help Jews during the war and her wish for future generations to keep the stories of Holocaust survivors alive so that such an atrocity will never happen again.
One person who helped Lowy keep her story alive is Potomac native and JDS alumna Arielle Goldman, who attended the school when Lowy still taught there. As part of a project for her MFA (Master of Fine Arts) program at New York University's Tisch School of the Arts, in 2014 Goldman wrote, directed and acted in a one-woman play about Lowy's life called "To Life, L'Chaim!" Goldman had done extensive interviews with Lowy to prepare for writing the play.
After she concluded her presentation and distributed her written message to the audience, Lowy proceeded to give hugs, take pictures with students and sign autographs. When asked what would be the most important lesson she would like students to leave the presentation with, she said, "Never lose hope."