Gotta Draw 'Em All; Pokemon Mural Takes Off
Hang on for a minute...we're trying to find some more stories you might like.
246 total views, 0 views today
AP English teacher,  Sharon Lee,  has an iconic piece of classroom decor that sets the ambiance of her room over the edge: the student-made mural of colorful sketches.
This piece of art that fills the large white Expo board is not only unique to Lee's classroom, but shows students' talents and is an evolving piece that grows and changes throughout the school year.
Senior Kevin Flores, a former student of Lee, is in Lee's room (room 2031) working on the mural at lunch almost every day. He incorporates various styles of drawing, from doodles to detailed anime sketches. Other big stakeholders in the mural are Andrew Kuznetsov ('16) and Conor McGinley ('16) who have been frequently adding their own personal touches to the mural at the beginning of their AP Lit class sixth period.
"Me and Kevin pick out our favorites [Pokemon] and draw them … we sometimes argue about which ones should be big or smaller," Kuznetsov said. "I loved Pokemon since I was around seven and drawing them seemed so fun."
This spring,  the theme of the mural has been Pokemon: 20th Anniversary, as it encompassed many familiar characters from the popular cartoon. "I love Pokemon -I love it so much- it's my favorite series. It's so imaginative and there are 700 of these guys," Flores said. He drew what he said were the most important Pokemon in the 20th anniversary series.
Lee has had students drawing on her board for years in order to create this ever-changing unique mural, and is very passionate about the sketches. She makes sure they are protected during her classes due to the time it takes to complete them.
"It is not that hard to keep other students from erasing it or drawing over it," Lee said. "Kids love it. They take pictures of it and they really admire the artistic quality of it."
Aside from the large Expo board that the main part of the mural is drawn on, there is one extra square shaped board, which Lee often has other students make free-range doodles on during the duration of a mural, like the Pokemon one.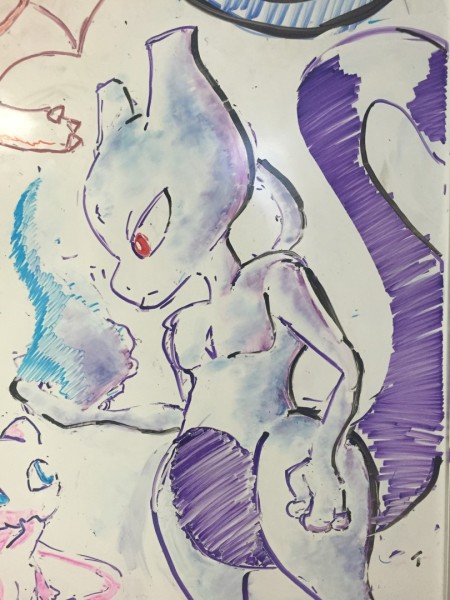 Filled with every color of the rainbow, drawings by talented artists, and little to no white space, this mural is so special to RHS and is something that you have to check out if you haven't done so. Have anything you've been itching to draw? Come share it on the whiteboard. Ms. Lee's mural is the perfect place for all students to express their creativity and share artistic abilities- large or small.