Youth Turnout in April Primary Election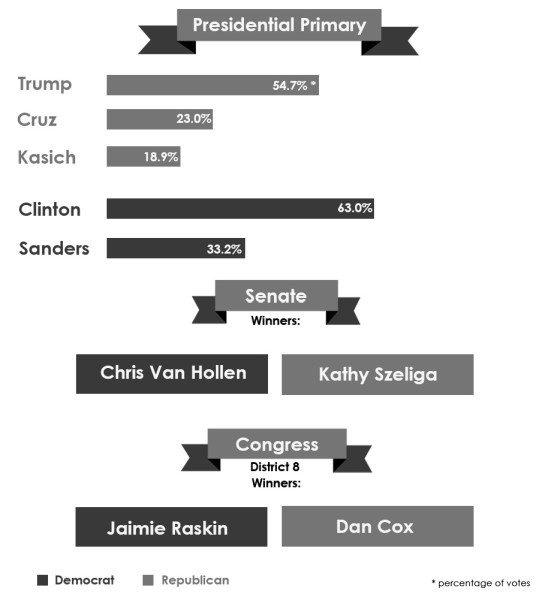 First time voters who were 18 by election day had the momentous opportunity to participate in the Primary Elections Tuesday, April 26.
Both Democrats and Republicans alike were locked in a heated battle to secure their party's nomination and represent their party in the November general election. Among democratic candidates, Hillary Clinton received 63.1 percent of the vote, while Bernie Sanders 33.2 percent of the vote. Among republican candidates, Donald Trump received 54.5 percent of the vote, followed by John Kasich with 23 percent and Ted Cruz with 18.8 percent, according to the Maryland Board of Elections.
Montgomery County Board of Elections also held elections for Board of Election seats. Jeanette Dixon and Phil Kauffman will advance to the General Election to compete for the "at-large"seat after receiving 31 and 27 percent of the vote during the Primary.
Although midterm elections have historically had less turnout than general elections, with the rise of social media, many youth are getting involved in political discussion and actively becoming concerned with national issues. Having information about how, where, and when to vote is a crucial component in increasing voter turnout, not only for youth.
"It's really frustrating when I hear other students say that their vote doesn't matter when it can actually make a difference and can have an impact on who's in the White House for the next four years," said senior Emily Gee.
While individuals ages 18-29 make up 23 percent of eligible voters according to MSNBC, millennials have often been criticized for their lack of turnout. With national organizations like Rock the Vote and Montgomery County-based organizations like the Future Vote Initiative, youth are being increasingly encouraged to get out and vote on election day.
Future Vote was developed by Gilberto Zelaya and approved by the Board of Education (BOE) in 2004 and has since served over 16,000 families and 26,000 students in Montgomery County. The program's main goal is to increase civic participation and create interest in the voting process. Future vote works with students as young as 11 to expose them to the voting process before they can even cast a ballot and eventually hopes for these students to serve as election judges when they turn 17.
Founder of Future Vote Dr. Gilbeto Zelaya said "voters don't understand the sacrifice and coordination needed to pull [election day] off."
While some RHS students took advantage of relaxing during the day off of school, some eligible students elected to participate in Primary Day voting. In order for a student to have participated in voting, they had to register by April 5. Nonetheless, registration for the general election will remain open until October.
"As a nation we're young, we've gone through so much, we've had families and individuals who made sacrifices that allow individuals the right to vote but also the right not to vote," said Zelaya.