Khan-Baker Speaks At White House Worker Voice Summit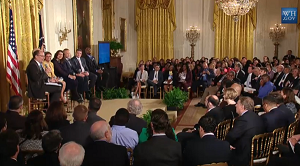 AP English teacher Ambereen Khan-Baker spoke on a panel at the White House's Worker Voice Summit Oct. 6, about the importance of teacher's unions in improving not only teachers' voices, but the quality of education in schools.
President Obama, Labor Secretary Perez, economists, employers and union members from various workplaces attended the summit. The summit focused on the importance of workers' voice and the unions that enable communication in order to solve pressing issues in the workplace.
Khan-Baker was invited to the summit through her involvement as a Coach Coordinator and Candidate Support Provider for National Board candidates in Montgomery County. Speaking about her work at the National Board, she said, "I teach them how to use probing and analyzing questions to improve the teaching and learning conditions for our students."
Khan-Baker actively supports the teaching community here in Montgomery County and Rockville, but her journey in finding her passion for education started much before against many odds as an immigrant. With the support from mentors in her high school, she spoke about the difficult application process and how she gives back to Rockville students in guiding them through the process. During the summit, she said:
"My student, Manuella, asked me what do you think about this essay? I sat down with her, and there was this moment where her face would just light up – where a student grasps content. I had her for two year and in that two years I could see her self confidence improving through these techniques. I take the skills I learn from the union and put them in the classroom."
This is Khan-Baker's 11th year teaching. Her passion for teaching has shown not only in her certifications and awards, but in her direct impact on students.
Senior Avanti Kolluri said, "She's really enthusiastic and excited and she's always there to help us stay on task. She's always encourages us and she makes sure we are organized with our work."
Watch Khan-Baker at the summit here: https://youtu.be/50zyA1SBxo4