D.R.A.M.'s Sophomore Release Proves He Can Do More Than Just "Cha Cha"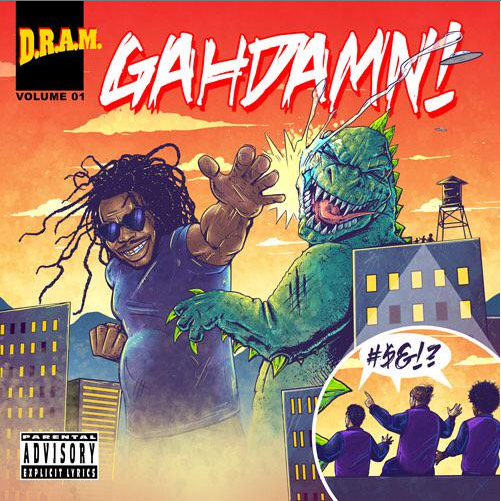 D.R.A.M.'s impressive sophomore release proves that Virginia-based rapper can escape the shadows of his hit single, "Cha Cha," and emerge as a mainstream artist.
The Gahdamn! EP continues where D.R.A.M., real name Shelley Massenburg-Smith, left off on his debut extended play. Massenburg-Smith continues to reveal a knack for melody, as the album is a musical crossover between elements of rap, pop, soul, rock and even electronica. The album features impressive appearances by Donald Trumpet and The Social Experiment as well as SZA, whose feature originally appeared as an interlude in Donald Trumpet's Surf.
Standout singles include "Caretaker," "$" and "I'll Be Back Again," all displaying a transition from the simple, upbeat, Super Mario Brothers theme song sampling D.R.A.M. we know towards a more developed sound, relying heavily on pianos instead of club beats.
"Caretaker" features SZA and Massenburg-Smith's soulful belts in the song are reminiscent of 1990s rapper Biz Markie. On "$," Massenburg-Smith collaborates with Donald Trumpet to produce an uplifting melody, one that Social Experiment member Chance the Rapper is widely known for. Another favorite, "I'll Be Back Again," is a playful song that reminds audience in its title that D.R.A.M. is here to stay.
While the album's lyrical content isn't very powerful, Massenburg-Smith excels at combining various types of musical styles to produce his own unique sound. Instead of relying on the success of "Cha Cha," which has influenced Drake's most popular song since 2013 "Hotline Bling", Massenburg-Smith remained inspired and did not recycle his success, choosing instead to go in a slightly different direction than his last EP, which featured more club bangers than blues.
Unless listeners are dying to listen to 8 more variations of D.R.A.M.'s signature hit, they will not be disappointed. Massenburg-Smith only lacks in completeness and depth, as the nine track EP is cut short of feeling like a full album. To continue his growth, Massenburg-Smith must produce less catchy hooks and more instrumental pieces. He has a good start on Gahdamn!, but that doesn't mean it should end here.