Rams to Watch: Mia Krawczel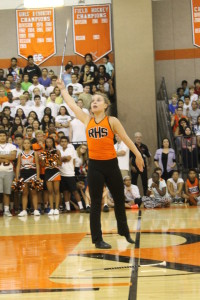 Junior Mia Krawczel manages to balance her time as a captain of the pom squad, an IB student, a choreographer for the school musical and a competitive dancer. On top of all this, she is also a nationally award winning baton twirler.
"Mia is a very hard worker and is able to effectively juggle all her activities and be successful in all that she does," Krawczel's baton twirling coach Kacy Dovich said.
Krawczel has been dancing since she was two years old and has been baton twirling since she was four. According to Dovich, Krawczel is able to use her skills to create a unique style that is all her own.
"Mia is both a very dedicated team member, as well as an individual competitor. She spends countless hours in the gym fine-tuning her technique and skills throughout the year," Dovich said.
There are 20 baton twirling competitions that take place every year and Krawczel was named Miss Majorette of Maryland this year and in 2011. A majorette is someone whos choreographs baton twirling associated with marching band and parades.
Krawczel also performs during the halftime shows at the University of Maryland, College Park football and basketball games.
Krawczel has been on the pom squad since her freshmen year, in which she was the only freshman to make the team.
"She's very dedicated and passionate about poms and loves being a pom," poms coach Megan Freed says.
Being on the team requires a lot of quick choreography and since Krawczel has been baton twirling for so long, she says it helped her learn the dances.
"I went into Poms already knowing all the dance terminology and I was really flexible so that really helped," Krawczel said.
This is Krawczel's first year as a poms captain. Her title entails being a role model to the younger girls, leading warm-ups, choreographing routines and teaching new dance moves to her teammates.
"As a captain, it's important to be able to demonstrate skills and help give constructive criticism to others," Freed said.
Krawczel is able to manage all her commitments and she is able to excel in all of them.
"Anyone who knows Mia knows how fun and spontaneous she can be, and that comes across in her performances," Dovich said.