"Grey's Anatomy" Recovers from Trauma of Previous Season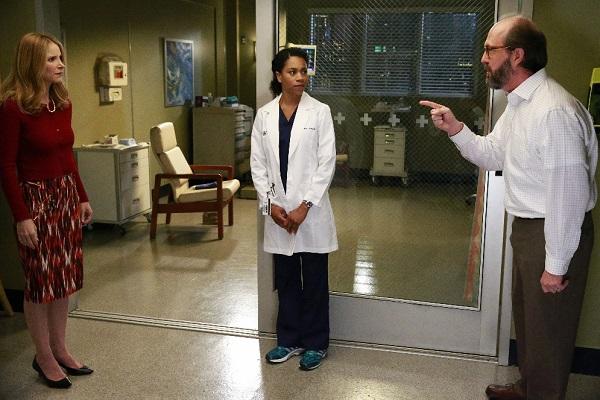 Millions of Americans rushed to their televisions last night at 8 p.m. Eastern Standard Time for at least an hour of viewing some of the most captivating shows to ever grace television. The occasion? The return of TGIT, better known as Thank God It's Thursday.
TGIT is the affectionate fan name for Shonda Rhimes's triad of dramas airing Thursday nights on ABC. The season 12 premiere of the medical drama "Grey's Anatomy" came first, immediately followed by the season five premiere of the political thriller "Scandal" and the season two premiere of the legal drama "How to Get Away With Murder".
"Grey's Anatomy" deserves some special attention, seeing as it has been on the air for 11 seasons and over 10 years, a surprisingly long life for a show. One would think that the writers would have run out of material to use at this point, but they could not be more wrong. Last night's "Grey's" was just as refreshing as ever.
I do not mind admitting that I started this episode, titled "Sledgehammer", just a tad disappointed. Why? Neurosurgeon and co-star Dr. Derek "McDreamy" Shepherd, husband to general surgeon Meredith Grey and the target of many "fangirls", was killed off in a cruelly ironic car accident late last season, and yet, four short episodes later, his name did not even appear in the script once. Most would expect a bit more respect and remembrance for a character with such a significant legacy. The time jump brought in one episode after McDreamy's death is no excuse.
Nevertheless, my eyes were soon superglued to the screen, what with all the developments taking place. The show quite literally went off with a bang as I watched the growing sisterhood consisting of Grey, her half-sister, cardiothoracic surgeon Maggie Pierce and her sister-in-law, neurosurgeon Amelia Shepherd argue over tearing down one of the walls in Grey's house with a hammer. Fans surely appreciated this light-hearted moment after half a season of suspense and tragedy.
To my chagrin, the relationship between resident Jo Wilson and pediatric surgeon Alex Karev remained static. They were happy, but that was all. One would hope that by this point they would at least be engaged, given that they have been in a stable relationship for a relatively long time when compared to some of the other couples in "Grey's" history.
Plastic surgeon Jackson Avery and trauma surgeon April Kepner's struggling marriage was a veritable cause for concern, though. The grief over the loss of their infant son halfway through season 11 and April's continued absence as she went on medical tours in the army continued to drive a growing wedge between the once-happy couple. After the soul-crushing season 11 split between orthopedic surgeon Callie Torres and pediatric and fetal surgeon Arizona Robbins, it would simply be too soon for another separation or divorce.
On a positive note, Amelia Shepherd, Derek's sister, seems to be out of the woods. She has recovered from her grief without giving in to the pull of her old narcotics addiction, and, as a bonus, looks like she is on track to reinstate her relationship with trauma surgeon Owen Hunt. Torres and Robbins are coping with their split quite well, and Meredith seems to have adjusted to her role as a single working mother.
Beyond its soap-like aspects, "Grey's" still never ceases to amaze. The doctors (who have an excellent command of the medical "language" and never look like actors reciting pre-written lines) deal with complex traumas and even more complex ethical dilemmas. This episode's featured foray into ethics culminated in Pierce punching a patient's mother because she believed her actions with regards to her daughter were abusive. It is clear that Pierce crossed a line, but at the same time impossible not to sympathize with her for standing up for her patient.
Furthermore, "Grey's", which has always been widely acknowledged a rather progressive show, took center stage in the arena of social justice and representation in last night's episode, demonstrating exemplary positive portrayal of issues related to disability, race, gender and LGBT rights.
Rhimes took a clear stand against ableism in her depiction of Robbins's response to others claiming she was only pretending to be an amputee so that she could get a better parking space. She also, in a moment we have all been waiting for with bated breath, had general surgeon Miranda Bailey be elected Chief of Surgery, making her the first woman and second person of color to hold the position.
Perhaps the most gut-wrenching part of the episode, though, was the story of the episode's two guest-star trauma patients, teenage lesbians Aliyah and Jessica. As a rather sad rendition of "Wrecking Ball" played in the background, it was revealed that Aliyah and Jessica had attempted a joint suicide by train due to the fact that Jessica's homophobic parents, especially her mother, did not accept their daughter's sexual orientation and relationship, and were planning to send her to a gay conversion camp. Rhimes demonstrated the devastating impact of bigotry on the mental health of young people, proving that "Grey's" is just as much a social commentary as it is a soap opera and an operating room thriller.
All in all, I remain optimistic for the future of "Grey's Anatomy", whether it lasts until the end of this season or longer, despite a sharp downturn in hope at the end of season 11. No matter what, each coming episode will not fail to frighten, move (usually to the point of tears), represent, teach, question (and make us question ourselves) and empower.