Latin American Night to Present Ethnic Food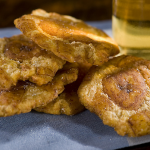 Parents, students and staff are invited to celebrate Latin American Night, which will take place March 11 in the RHS cafeteria. There will be ethnic food from each country in Latin America, as well as dancing and other activities.
Teenagers and their parents migrate to the United States every day. At RHS, 24 percent of the students are Hispanic, including Cuban, Argentinean, and Brazilian. RHS is populated by a large diversity of Latin American or Spanish speaking nationalities, such as El Salvadorian, Mexican, Argentinean, Columbian or as many of the Caribbean who are Mulatto, which is a mix of a Caucasian and a Black.
Latino, Hispanic or Spanish is a culture or ethnicity that is hard to define concretely. Latin America consists of South and Central America, the Caribbean and Spain. Latin American culture is known for fast pace step music such as Salsa, Merengue and Bachata, the world's best carnivals, waterfalls, most Miss Universe titles and, most of all, their cuisine.
El Salvador's most notable dish is the pupusa, a thick hand-made rice flour tortilla stuffed with cheese, cooked pork , refried beans and loroco (a vine flower bud native to Central America). Two other typical salvadoran dishes are the yucafrita and panes rellenos. This is a platter that will be presented at the celebration, among others.
Argentinian cuisine is distinctive in South America because of its strong resemblance to Spanish, Italian, French and other European cuisines. Another determining factor in Argentinian cuisine is that the country is one of the world's major food producers. Argentinians are famous for their high protein diet, including beef, grilled meat, pork sausage, mollejas (sweet bread) and other parts of animals.
Mexican cuisine is known for its varied flavors, colorful decoration and variety of spices and ingredients, many of which are native to the country. In November of 2010, Mexican cuisine was added by UNESCO to its lists of the world's "intangible cultural heritage". Mexican cuisine uses many spices such as chile powder, oregano and cilantro. Mexico is also known for its corn bread.
As you may notice, most of the impactful cuisines come out of the mentioned cultures. These cuisines combine their culture in their food by adding color and the special "taste" from that country. If the mentioned foods appeal to your taste buds, think about participating in this festivity at RHS.