Summer Styles Develop As Weather Heats Up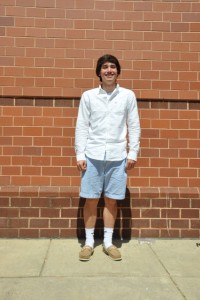 Sporting white is always a good choice when the sun is shining. Freshman Asa Hemingway's khaki shorts also provide ample pocket space for his valuables. The sleeves provide two options: sleeves down, protection from mosquitoes and gnats; sleeves up, feel the cool summer air. Like Hailstock's outfit, it isn't necessarily ideal for athletic events, but can definitely be rocked at formal events.
Overall, the outfit is perfect in that it can be worn to church, a cook-out, and everything in between. Hemingway must be careful, however, that boardwalk food or barbeque doesn't tarnish his classy choice of dress.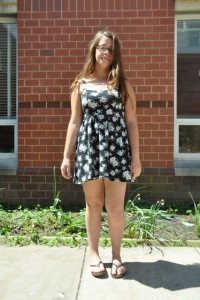 Sophomore Morgan King fashionably wears a sundress during fancier events during the summer. Although black, it is made of loose material that avoids trapping in heat and overall feels cool, even as temperatures hit the lower 90's. The white floral pattern is attractive without looking distracting, and it's a very versatile look. The dress combines comfort and aesthetics, the main goal of summer fashion. The flip flops are a name brand virtually all high-schoolers recognize.
The shoes, known as Rainbows, have caught fire in recent years and are a staple item in many girls' shoe arsenal. Comfortable and definitely charming, the attire all comes together for a well-established mien.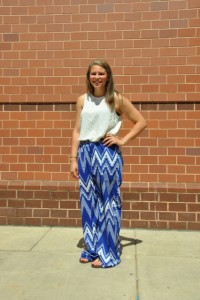 Junior Paige Hailstock looks stylish and chic in her semi-formal, quite colorful outfit. The white tank top is ideal for the rising temperatures, and compliments the royal blue pants very well. The bright blue pants are ideal for cooler summer nights to trap heat against the breezes, and they're very fashionable and in style around this time of year.
The outfit is all the rage these days; many are aware that these types of pants are seen everywhere once spring comes.
The outfit is quite classy, and the brightness of the contrasting colors is sure to draw attention. The flip-flop sandals bring the beachy look together, and work for both an in and out of school outfit.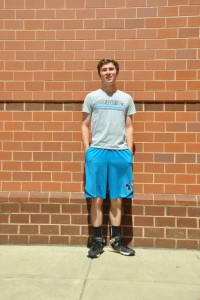 Pictured is freshman Teddy Andrew, rocking the athletic look common among males during the warm summer months. He sports a light shirt, relatively inexpensive, yet perfect in terms of comfort when playing sports or on a run. One can never go wrong with a simple Nike shirt.
The teal blue shorts are loose and also very comfortable. They go along with the classic mid-calf basketball socks which are essential to a sporty outfit, and they match perfect with his athletic shoes.