18 & Under; Don Pollo Pulls In Tastes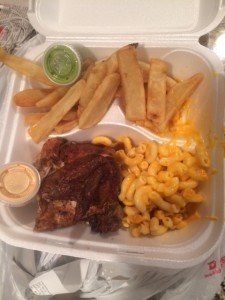 Drivers pulling into the Twinbrook Shopping Center can smell the enticing aroma of Peruvian rotisserie chicken coming from Don Pollo's, a fast-casual restaurant that's easy on the wallet. The delicious scent draws customers inside the restaurant, where one can see all of the food being cooked right behind the counter so customers know it is fresh.
After observing the small but detailed menu, the 1/4 white meat chicken with a side of Mac and cheese and French fries was calling my name. The total (including a drink) was only $10.37 which is not expensive considering the amount of food you are given.
The chicken was cooked to perfection, with the skin providing tasty flavor for the juicy white meat. It took quite a while to finish the whole meal overall, especially with the amount of sides. The macaroni and cheese was excellent and not too overpowering or too cheesy. The French fries were enjoyable as they were different from the typical McDonald's fry: Very wide, with a unique but delightful taste and not too salty.
If Don Pollo were to get a grade, it would get a B plus. Although the food was very good, it was not the best chicken I've ever come across. Additionally, they could do a better job of providing their customers with a bigger selection.
Overall, my meal was very satisfying and quite comforting, and I finished everything on my plate. I was stuffed for the next couple of hours which is always the sign of a good meal, and I already want to go back again. I highly recommend checking out Don Pollo if you like the restaurant Crisp N Juicy., The two have similar tastes but I think Don Pollo might take the cake.