Graduation Holds Strict Dress Code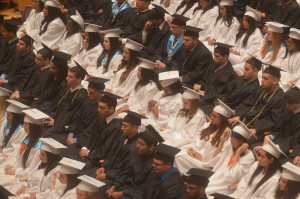 Graduation is a time to celebrate the achievements of our grade and acknowledge that we have completed high school. This is our night and being told what to wear can really take away from such a monumental event.
Graduation's dress code — black pants for the men and all white for the woman — is heavily enforced, to the point that you can be stopped from walking if you break it. The purpose of the dress code is so everyone looks similar and to create an image that we are graduating as one class. While this is understandable, keeping students from walking for breaking the dress code is absolutely infuriating.
"We try to make sure everyone looks uniform and are dressed appropriately. This is a very important day to people and we hope everyone will respect that by dressing according to the code," senior advisor Farron Riggs said.
Graduation is only one day so many people find it a hassle to buy new clothes for one event. Girls in particular have trouble finding the right things to wear, especially with such strict enforcement. It is easier for the men because most men own blacks pants. Women have it a bit tougher. Not all women have a white dress and white shoes and they have to wear them to walk.
"I shouldn't be forced to wear white shoes if I don't want to," senior Nicole Marinucci said. "I don't even own white shoes, and I don't want to spend money on new shoes just for graduation."
There have been people who broke the dress code in the past and were not allowed to walk. I believe that after 12 years of school, we should not be excluded from graduation simply due to dressing against the code.
"I personally don't care about the dress code; for guys it is pretty simple and easy to manage, but I can see the anger with girls – they are a bit more particular with their outfits," senior Steven Fonseca said.