RHS Stays On Track On Way To States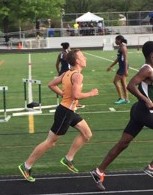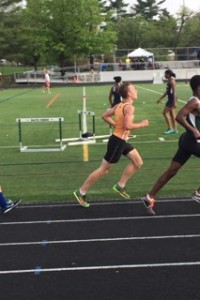 On Friday May 8 and Saturday May 9 the MCPS county championships took place at Walter Johnson HS. The A meet took place first with the B meet happening the next day.
Despite tying for 13th out of 24 teams, the meet was still considered a success. "We did fairly average compared to the other teams, said track and field coach Collin Cunningham, there were also many individual successes that came out of this competition."
Most notably, the RHS 4X8 relay, comprised of senior Miguel Suero, Manuel Suero, Billy Kirk and junior Adam Sarsony, finished second in the race with a time of 8:11.91. The only team that beat them was Northwest HS. Kirk and Miguel Suero were also successful in the other races that they bran. Suero finished third in the boys 800 meter run with a time of 1:59. Kirk finished ninth in the two mile (3200 meter) run with a time of 10:02, his personal best for the season.
"Although it was the best for the season, my all-time [personal record] is about 13 seconds faster. My goal is to get back to where I can get back below ten minutes," said Kirk.
Other members who did well include junior Sean Brown who finished sixth in the 400 meter run with a time of 51:54. He was the highest placed junior in the competition losing only to seniors. Junior Marco Ramirez finished tenth in the 300 meter hurdles, a great feat considering he had shoulder surgery during the winter.
For the girls, senior Mecalia Palmer finished in the top 15 in the 300 meter hurdles, the 100 meter hurdles and the 100 meter dash. Senior Sophia Scarano also did well in shot put finishing 13th with a distance of 62-11.
"Overall, I feel that we did well but that there is always room for improvement. I am glad to see the success in some of our younger runners as it shows the promise that the track program has for the future," said senior Yousef Ghanem who finished 18th in the boys shot put, the highest among RHS participants.
On Wednesday May 13 and Thursday May 14 the team will compete in 3A regionals, which will be the last meet before the State championships that will happen on May 21.