Boys Lacrosse Wins Against Blair Senior Night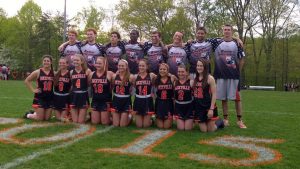 With a season highlighted by young and talented players, the boys varsity lacrosse team took time on Friday night to honor the seniors of the program in their 11-8 win over Blair HS.
The teams were evenly matched until the fourth quarter. Both teams exchanged goal for goal throughout most of the second half until the Rams were able to go on a run and come away with key defensive stops in the fourth quarter. Senior defenseman Nick Weiler led the defense with 18 ground balls and seven forced turnovers while on the offensive end senior midfielder Kellen Cremins helped bury the Blazers with two much needed goals.
"It was a big win for us," Cremins said. "Not just for the seniors but for the team as a whole we really needed this one."
The Rams, coming into the game with a record of 6-4 and fresh off a heartbreaking overtime loss to Poolesville, needed a win to help their chances of earning a high playoff seed. With the victory Friday night, the team will most likely end up in the third seed position.
Locking up such a high ranking is quite the accomplishment for a squad that lost 14 seniors last year. The Rams start five underclassmen and five upperclassmen, only three of them seniors which is quite a different look from last year's group.
Senior captains Justin Flavell, Thomas Sheil, Nick Weiler and Kellen Cremins were tasked with leading a young team to the success the program has experienced the past three years. Overcoming such inexperience was difficult at the beginning of the year; however, Friday night's game proves how far the group has come.
"We wouldn't be where we are if it wasn't for them [seniors]," junior goalie Daniel Ignacio said. "That [game] was for the seniors and I'm happy we could pull one out for those guys."