Rams Triumph Over Northwood, Look to Gain Momentum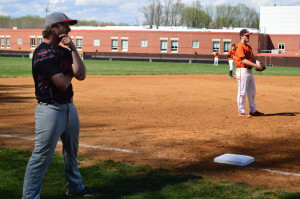 The Rams varsity baseball team faced Northwood last Friday and showed that they will be a tough team to beat. Fielding the ball with execution, hitting like champions and getting everyone involved, the boys walked off with a 13-3 win.
This game was important in that it escalated the team back to a .500 win percentage, something the team hopes to stay above for the remainder of the season. The team has a 4-4 record at the moment with 10 games remaining.
Senior pitcher Ben Glod threw for six innings in the win, only allowing three runs. This pitching gave the team a much needed win that will hopefully prove to be the turning point of the year.
"After a tough loss on Thursday, we needed that win to get our spirits back," varsity head coach Farron Riggs said. "As a team we knew we had to get ready to push forward the last two weeks."
This win was composed of sharp defense and excellent hitting for the Rams. Senior Joey Cornwell as well as juniors Matt Marsteller and Jack Hegarty each had two hits which proved to be the key in this high scoring affair.
"We knew we had to bounce back from the Poolesville game and I think we proved that tonight," senior Joey Cornwell said. "This is my last year with this team and I really hope this win will give this team positive momentum as we finish off the season."