MCPS Extends School Year By A Day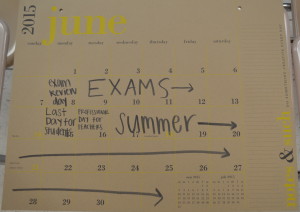 MCPS announced March 30 that the school year will be extended by one day to June 15 in order to make up days lost from inclement weather, since Maryland public schools are required to be in school for a minimum of 180 days.
From the beginning of the school year, there has been a contingency calendar up on the MCPS website stating that if schools are closed for five days, the school year will be extended to June 15 and so on. MCPS applied for a waiver for this extra day, but the Maryland State Superintendent of Schools denied the request.
Originally, the last day for students was June 12 as an early release day. June 12, a Friday, is now a full day of school, and the last day of school for students is a half day the following Monday, June 15. This means that teachers must report to school on June 16, their professional day. The exam schedule was also pushed back a day, so exams begin Tuesday, June 9 instead of Monday, June 8.
This change does not have nearly as big as an effect on high school students as it does on middle and elementary school students. High school students are not required to come to school on June 15, as long as they have finished all of their final exams. Middle and elementary school students, however, are required to be in school on June 15. This means that any families who scheduled vacations for that weekend either have to cancel, or miss school on an unexcused absence.
Freshman Noam Elfassi's younger sister, Adi, is in fourth grade at Barnsley ES. On the last day of school, Adi's class is having an end of the year party. The Elfassi's are unsure of whether they are going to postpone their vacation or if Adi will have to miss the party and be absent from school that day.
"We certainly took a calculated risk by booking a vacation for right after school ends, but with that said, extending for one day, which is a half day, also does not justify the difficulty or expense of changing plans," mother Yonina Elfassi said. " […] for a half day of school after a weekend, I am thinking that attendance will be very low."
The Elfassi family is not the only family affected by this extension. Junior Sara Adam originally had a flight scheduled for the morning of June 12, but because the exam schedule for high school was pushed back, she now has her eighth period Anatomy exam that day.
"This is really inconvenient because I have to move my flight. One more day of school will not do anything because most of my classes are AP classes. In my other classes, we have already made up for the lost days," Adam said.
While extending the school year has a significant impact on some students, teachers and families, others are less bothered by the change.
"It just pushes the school year back one more day. There is no positive or negative effect on me," leadership and health teacher Katherine Gross said.