AVID Program Helps Students Exceed in School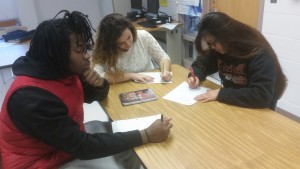 For students who plan on going to college , the process of getting prepared can be rather stressful, especially for first generation students. For this reason, in 1980 a California English teacher named Mary Catherine Swanson, created the AVID (advancement through individual determination) program.
A common misconception among RHS students is that AVID is a remedial course. This is inaccurate considering the high expectations the program has for its students. "AVID is not a remedial course," AVID coordinator Ambereen Khan Baker said. "Students are required to have a 2.40 grade point average at the very least, as well as be taking rigorous courses."
The AVID program aims to improve key academic skills such as writing, communication and note taking. To accomplish this, techniques such as tutorial sessions are used in which individuals ask each other questions that stimulate critical thinking.
During tutorial sessions, students are expected to ask high level questions to each other, to ensure that each student fully understands how to get past his or her points of confusion. "The strategies that we teach are not specifically designed for the program, we are simply taking the best parts of teaching and putting them together," AVID teacher Adjua Adama said.
Aside from specialized teaching methods, AVID also provides other benefits. The program teaches students about college tuition, the application process and how to write effective college essays. The program also provides students with two fee waivers that pay for either the ACT or SAT and four fee waivers that pay for college applications.
AVID is open to all students. For students planning to attend college taking AVID could be a good choice. The program looks good on transcripts and can provide a helpful experience for students looking to attend college after high school.
According to a data collection by AVID researches, 77 percent of AVID seniors who applied to a four year university were accepted. RHS is one of only four high school in MCPS that offers AVID. Senior Estefanny Rodriguez said, "I took the AVID program along with the IB program and it really helped me understand what I needed to know in order to pursue the college education that I desired."