Buzz On Popular Educator's Beekeeping Class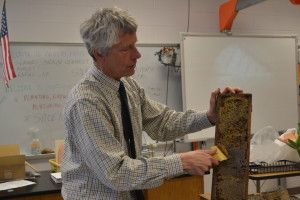 Longtime educator Gregg Gochnour not only teaches biology, horticulture and anatomy at RHS, but also another course which many students don't know about: beekeep ing.
Gochnour holds a class for around 50 students at either Holiday Park Senior Center or Montgomery College every Tuesday to show interested individuals how to maintain beehives and educate them about bees. His classes are al ways full of enthusiastic students who find themselves fas cinated by the amazing creatures.
"It's a great introduction for those interested in a bee-related profession in the future," Gochnour said. "The stu dents I teach now are learning a lot and all seem very pas sionate about the world of bees." Gochnour is fervent about teaching the younger generation about the necessity of bees in the ecosystem, as global research shows that the honey bee population is dwindling.
Some major topics that the class covers are bee biology, the roles of bees in the hive and the production of honey. The class is great preparation for those who want to pick up beekeeping as a hobby. Students also have the chance to view bees under a microscope.
Dana Ribek, a member of the class, said, "Not enough people know about the importance of bees to farming and agriculture. This class definitely helped me learn more about the care and keeping of bees." Ribek enjoys attend ing other bee-related events and is interested in owning her own bee farm in the future.
Beekeeping has become much more popular over the years as people start to realize the importance of bees in na ture, such as their contributions to pollination. Some fami lies who attend the class even care for their own bee hives in their backyards.
Another class participant, Gracia Robinson, said, "My husband and I are currently raising a bee hive. It feels good to know that we're helping the environment and prevent ing the extinction of bees."
All students are welcome to stop by the class to learn about the bees and their impact on society and the planet.