Two Jewish Holocaust Survivors Tell World War II Experiences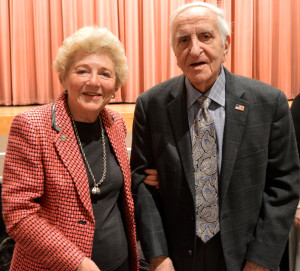 70 years ago, the Jews trapped in the Auschwitz concentration camp in Germany were freed from the oppression of the Holocaust. Two of these survivors shared their stories with students at the annual Holocaust assembly Jan. 27.
Holocaust survivors Henry Greenbaum and Halina Peabody spoke to third and fourth period classes. They shared their stories in rich and moving detail.
From age 12 to 17, Greenbaum traveled from the ghetto to labor camps to concentration camps. Originally from Poland, Greenbaum ended his Holocaust experience on a march through Germany where he was saved by American soldiers. He still remembers his time in the concentration camps by his identification tattoo on his arm.
Greenbaum repeatedly said, "God was watching over me." He was almost killed when he was grazed by a bullet in his head in an attempt to escape from a Jewish slave labor camp. The other Jews who failed to escape and were injured were lined up and "Right in front of our faces, the two men held up their rifles and shot every one of the wounded people," Greenbaum said. His life was spared because he was able to cover his wound.
Also from Poland, Peabody and her family were similarly fortunate to escape the oppression of the Holocaust. With a deported father living in Siberia, Peabody, her mother and baby sister took the risk of changing their identities, under the constant threat of being discovered.
Peabody and her family traveled from place to place under new Catholic identities. Their blonde hair provided an escape that most brown-haired Jews could not use. Peabody said, "Any little thing could give you away." Even after being caught, they were simply told that they "…don't have a chance in hell," and were sent on their way.
Peabody's and Greenbaum's stories inspired the hundreds of students who attended their talks, including sophomore Adi Golan. As a young Jew, their stories had a personal effect on her.
"It is scary to hear about things that happened to people like me, but I was really honored to hear them speak and to know they inspire young Jews all the time," Golan said.
The speakers are a part of an organization called the Portraits of Life. The goal of Portraits of Life is to communicate and share the stories of local survivors to prevent similar oppression in the future. The survivors in this organization are from all over Europe and survived in labor, concentration or death camps, hid, passed as non-Jews, and struggled through unthinkable conditions as young children or teenagers.
Social studies resource teacher Rene Shuler is passionate about telling the story of the Holocaust to the next generation. "[The Holocaust needs to be remembered] to keep us from using hate and ignorance in the future as a means to further the advancement of one group over another," Shuler said.
RHS is very fortunate to have these speakers every year. "These speakers are the last of their kind and it was an honor to hear them personally share their stories," Golan said.