County Holds Tour to Honor 50th Anniversary of Freedom Trail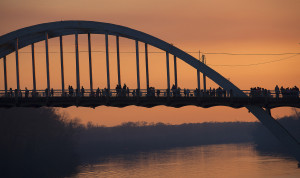 Step out of the confines of your textbooks by participating in a unique opportunity to travel to Alabama, Tennessee and Georgia and witness the birthplaces of the civil rights Movement.
The Montgomery County Office of Human Rights is hosting a six-day educational bus tour from April 6 to 11 to retrace the Freedom Trail to learn about Martin Luther King Jr., Rosa Parks and the Montgomery Bus Boycott, Voters Rights and other significant events of the civil rights movement. The trip is open to entire families or individuals. Being a Montgomery County resident is not required.
The educational tour, which runs during spring break, will include visits to Greensboro, NC; Atlanta, Ga; Birmingham, Montgomery, Selma, and Tuskegee, Ala; Cincinnati, Ohio and Memphis, Tenn. Not only will participants be able to visit prominent sites of the civil rights movement but also hear first hand accounts from individuals who participated in the movement.
James L. Stowe, Director Montgomery County's Office of Human Rights emphasized that this is not a sightseeing tour. "It really is designed to totally immerse you into the movement," he said.
The Montgomery County Office of civil rights partners with Montgomery County libraries, the African American Employees Association, the Lincoln Park Historical Foundation and the Southern Christian Leadership Conference to provide this opportunity. The prices include a quad package at $545 per person, a triple package at $615 per person and a double package at $735 per person. Payment, due March 4, covers hotel rooms, museums, tours, transportation and some meals.
The tour was first introduced in 2009, adapted from an idea first implemented by the city of Rolly, North Carolina Martin Luther King Holiday Committee. The Office of Human Rights designed and modified the tour to meet the needs of the community. This year will be the fifth year the tip is offered.
Stowe said, "You can actually sit in a space where a famous event occurred, so you can not come out of this experience unchanged. It's not the same as experiencing these events from a page."
This year's trip is particularly special since it occurs during the 50th anniversary of the march from Selma to Montgomery, in which protesters helped raise awareness of the difficulty faced by black voters in the South. Stowe notes that the office of Human Rights typically does not conduct countywide trips like this one; however, this is a good opportunity for community members to expand their knowledge about the civil rights movement through experience.
The bus is equipped with Internet access, movies, and snacks. 45 to 50 people usually attend the trip so space is increasingly limited. Additionally, due to the positive feedback received from past trips, the Montgomery County Office of civil rights hopes to create similar trips to occur during summer break.
Stowe emphasizes that this trip is not only about Black history, but American history, since individuals learn that every race, every religion; every sexual orientation was involved in the civil rights movement. Ultimately, it took the collective effort of the American community to progress to where we are today.
Although this trip is a unique opportunity to travel to those prominent settings of the civil rights movement, Montgomery County also has rich history in the civil rights movement. The Montgomery County Historical Society has several museums and historical resources detailing similar events that occurred in the community.