18 & Under; Sunshine Burger Serves Best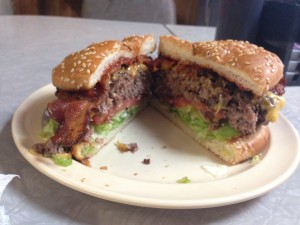 Inattentive drivers might go right by Sunshine Burger located on Georgia Avenue in Olney. The rustic, all white building next to a couple gas pumps doesn't look like the average burger joint, but has the best burgers in the area.
Walking into the general store at Sunshine, customers are greeted by an irresistible smell coming from the back.There are only a few tables and a counter with four stools. Behind the counter is a flat top grill stove, and counter where all the food is made. Customers order food at the counter with the stools, and then have to go back to the front of the store to pay at the register.
Although a half-pound burger is only $4.95, if you're a true fanatic, for $7.45 you can get a full-on bacon cheeseburger. Once you pick your toppings for the burger, such as lettuce and tomato, all you need to do is wait as your burger is cooked to perfection.
"I've been going to Sunshine for a couple years now. Ever since my first time going I've fallen in love with their burgers,"senior Joao Lopes said.
In addition to burgers, Sunshine offers a wide variety of sandwiches, from tuna to chicken to peanut butter and jelly. Sunshine has 27 items to choose from, unusual for such a small place with only two cooks.
Sunshine is a local favorite. The bar area is directly in front of the stove, so many of the customers get to know the two chefs personally.The food is made right in front of you and takes up to fifteen minutes at most.
Sunshine has very good hours. they are open Monday through Friday from 4 a.m. to 5:30 p.m., and on the weekends from 6:30 a.m. to 5:30 p.m. It is a popular breakfast and lunch spot for the local workers in the area.
At Sunshine, a burger and drink will almost always cost under ten dollars. Everyone should take the short drive to Sunshine up Georgia Avenue past Brookeville for a quick, delicious and relatively cheap meal.