Free Book Trading Grows in Popularity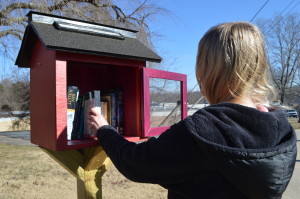 If you have recently gone by the Twinbrook Baptist Church, you might have noticed a little wooden box outside. Take a closer look: it is neither a mailbox nor a birdhouse, but a "Little Free Library," the newest trend across neighborhoods.
The "Little Free Library" organization started in Hudson, Wis., hoping to "promote literacy and the love of reading by building free book exchanges worldwide," according to their website. These mini-libraries offer outlets of creativity from the wooden box to the books found in them. Making them open to the public with a "Take One, Leave One" policy helps the community connect through the sharing of books.
About a month ago, Twinbrook Baptist Church joined in on the "Little Free Library" movement.
"We thought it would be a great way for the Twinbrook community to easily get and share books," Reverend Jill McCrory said.
Their library currently contains a variety of books from historical fiction books like Ken Follet's "Winter of the World," to mystery novels like Elmore Leonard's "Glitz."
"Little Free Libraries" differ from normal libraries because there are no library cards or late fees. Anyone can use them at any time.
"I think it is a fantastic idea," RHS media assistant Pauline Bamdad said. "Kids whose parents don't take them to the library can easily access books and read this way."
With the "Little Free Library" just up the street, some curious RHS students have discovered the library and have taken an interest.
"I love how I can put a book in the box and know that someone will enjoy the book as much as I did," junior Kelsey Hylton said.
The "Little Free Library" movement has already reached all 50 states and more than 70 countries. With a collection of pre-made kits on their website, anyone can start their own "Little Free Library."