Student Dreams of Pursuing Drawing as a Career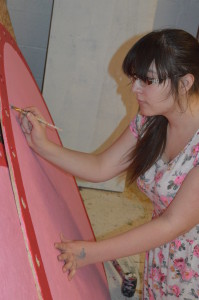 Not many teens know what they want to do when they grow up, but AP art drawing student senior Kel ly Flynn is sure she will be an artist.
A requirement for the AP art drawing course is a con centration section, where artists explore one theme that intrigues them through multiple pieces. Flynn chose to fo cus on the ever-changing experiences of depression.
"I chose this topic because I have depression," Flynn said. "People normally think it's just feeling sad all the time, but it's more than that. I wanted to capture that through my artwork."
Flynn explores the theme of depression through vari ous art forms and materials including watercolors, col ored pencils and acrylic paint.
"Color has always been an important aspect to my artwork," Flynn said.
Flynn has always been interested in art. Growing up in a family of artists, Flynn recalls her older siblings con stantly drawing. Being in an artistic environment inspired her to pick up the habit, too.
"Growing up, I was a real TV kid," Flynn said. "I was a pretty lonely kid, which is why I think I liked cartoons so much."
Eventually when Flynn began to draw, she mimicked the style of anime. Her love for the Japanese art form has been growing ever since. She hopes to one day become a professional storyboard cartoonist and create her own cartoon.
AP art teacher Connie Zammett believes this dream is in reach for Flynn. "I totally see her in an animation career; she's really good at taking feedback," Zammett said. "She asks teachers, friends and classmates for input on her art work and always grows from it."
Choosing to pursue an art career is challenging; art ists must devote a lot of time and energy to their artwork. However, Flynn wants a job that allows her to do what she loves most, draw cartoons.
"Kelly always has to be drawing," Zammett said. "I think it's a real strength of hers. She's hungry to learn."