Swimmers Ride Rough Waves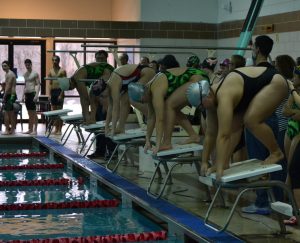 Despite having a slow start this season, the swim and dive team improved their standing, by unexpectedly earning fourth place in the divisional meet Jan. 31.
Junior Alexa Stewart finished first in the 100-yard butterfly with a time of 1:02.17 and the 100-yard backstroke with a time of 1:03.62.
Claiming their first overall (both boys and girls) win of the season, the team beat John F. Kennedy HS Jan. 24 at the Martin Luther King Swim Center. Their final standings for the season ended with the gils at 1-5 and boys at 3-3.
Junior Griffin Alaniz beat the RHS 500-yard freestyle record of 4:56 with a new time of 4:42:63 minutes. Many of his teammates cheered him on to beat the record while he lapped his competitors.
By the time he finished the race, Alaniz had to wait for about three minutes for all of the other swimmers to finish. At this particular meet, Alaniz dominated his competition, getting first place in everything he competed in.
The girls team won by a score of 106-53 and the boys finished 121-47 at the end of the Saturday meet.
Senior captain Amelia Hurley-Novatny has been swimming competitively since she was eight years old. She was looking forward to her last meet and plans to keep swimming in the future. Hurley-Novatny does not think she will ever want to stop swimming.
"It's like an addiction, you can't just stop [swimming]," Hurley-Novatny said.
At the Feb. 8 Washington Metropoli tan Swimming and Diving meet (Metros), 16 students from RHS were selectively in vited to swim. Stewart made the finals for the 500-yard freestyle and Alaniz made the finals for 100-yard freestyle and 100-yard backstroke, breaking the MCPS record for backstroke with a time of 51.04 seconds.
The Maryland State Swimming and Diving Championships (MPSSAA) are coming up on Feb. 13-14 and 20-21. 27 stu dents from RHS have recently qualified for the state championships.
The Rams have not been as successful this season as they were in the past, but coach James Castonguay remains optimis tic. "It's been a good season so far; I'm look ing forward to the ending being just as fun as the beginning," Castonguay said.
Freshman Rachel Fast said, "I love the ice cold feeling of the water when it touch es your skin and the feeling of exhilaration when you jump into the water."
She was excited for this meet because she has not swam for a while. Fast recom mends swimming to everyone and said it the best sport you can do for your body, your soul and your mind.