Budding Artists Wanted For Art Club, Art Courses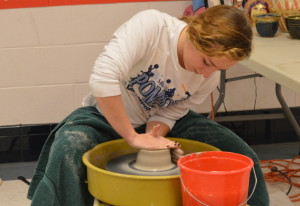 The Art Department dedi cated a week to promote art classes and inspire new artists.
Art Blitz Week began Jan. 26 and ended Jan. 30. The event was held in the arts hallway, with a different activity each day. Activities varied from dem onstrations, interactive photo booths and a meet-and-greet with the teachers. The main purpose was to recruit students into various art classes offered at RHS.
"We're blitzing every one with information about art classes," art teacher Con nie Zammett said. "We want people to sign up for art classes next year." With schedule cards being distributed in January, now is the time for electives to promote themselves to students looking to fill their days.
High school students are re quired to take at least one credit of fine art. However, after this credit is filled, students typi cally overlook art classes when selecting their schedules. Zam mett wanted to be able to "show people how fun art class is."
In this demonstration, ju nior J.T. Doyle threw a bowl on the wheel. Attracting a large crowd, Doyle modeled how to properly throw. "It's not as easy as it looks," Doyle said.
"I didn't know I had a knack for throwing until I went to fill my art credit with ceramics," Doyle said. "Ceramics is an im portant part of my day; it allows me to work with my hands and get away from all the books, and I would highly suggest that peo ple consider taking this course."
Recently, the art depart ment made both a Twitter and an Instagram account. On these accounts, students' art work is displayed from both photogra phy and drawing class.
Students who are already involved in the art department are encouraged to post photos of their artwork on either their personal Twitter or Instagram accounts, with the hashtag #takeanARTclassrockville.
One fun activity that caught students' attention and incorporated social media was the photo booth. A homemade photo booth was placed in the art hallway, with cut-out props such as class numbers and ram heads. Students were then able to have "professional" photos taken of themselves in the set up. Then the art department posted their photos on their Instagram account, as well as allowing students to post them themselves.
"It was really fun posing with the props in the booth," junior Laura Kjellman said. "It was a great opportunity to then talk to different art teachers and really consider fitting in a class in my senior schedule card."