North Bethesda Rotary Club Recognizes RHS Teacher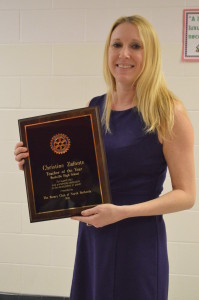 Christine Zafonte has been recognized as the North Bethesda Rotary Club Teacher of the Year for her immense contribution to Rockville High School and dedication to her students.
Zafonte teaches AP Psychology, Theory of Knowledge (TOK) and is the advisor for the Students Against Destructive Decisions (SADD) club at RHS. She is well known for her passion and desire for her students to perform at their highest potential.
Junior Xavier Daschner, who had TOK class taught by Zafonte, said, "Ms. Zafonte is an excellent teacher and she does a really good job of inspiring interest in her subject when she teaches. She is passionate about what she does and genuinely cares about her students and their focus on learning as well."
Although the award is quite prestigious, Zafonte has maintained the humble, friendly, and committed attitude that makes her so likable to her students. "I have no idea what made me stand out, I don't know if it's just my dedication to wanting to help the students and wanting to see them succeed, just trying to push for good academic success but at the same time showing the students respect," Zafonte said. Students of Zafonte always appreciate her great balance of pushing her students to do their best while maintaining a respectful and motivational nature.
As previously mentioned, Zafonte runs one of Rockville's most hailed clubs, SADD, as well. SADD is a respected club that is well appreciated throughout RHS and requires a lot of time and effort from Zafonte. It is truly inspiring to see a teacher put so much determination towards multiple aspects of her job and this determination, going beyond the class curriculums, likely helped her earn the award.
Zafonte's colleagues have most certainly recognized her drive and dedication. Assistant Principal Galit Zolkower said, "She is incredibly hard working and gives kids her time not only during the school day but during other events as well. She has helped out at prom, is often at sporting events and devotes herself to important events, such as Every 15 Minutes. We're lucky to have her at RHS."
Overall, it's easy to see why Zafonte received such a top-tier award. Zolkower said, "She is a great teacher because she always has kids in mind when she teaches. Ms. Zafonte is a real advocate for students."