Poms Face Difficulties; New Routine Developing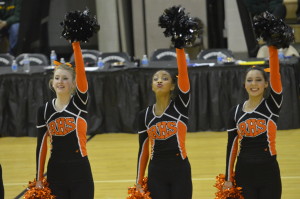 Beginning the competition season in a troubling way, the Pom squad has a new routine up their sleeve for the upcoming county competition Feb. 14 at Richard Montgomery HS.
With senior captains Madison Cary, Lital Elfassi and Nora Wahlbrink leading the invitationals, they are entrusting senior Courtney Mikell to lead the team at counties. "Courtney has always been a skilled pom and has often had certain dance moves revolve around her," senior Jennifer Nahm said.
Their first competition was at Blake HS Jan. 10, where they placed sixth overall and won the spirit award. Wahlbrink represented the squad as the captain and placed seventh for the Captain's Award.
"We really suffered from a poor choice of music," head coach Kelly Warsaw said. "We decided to change the music and the routine to make it more appealing to the crowd and judges."
Their second competition was at Damascus HS Jan. 17, where only four teams competed. The competition was delayed by 45 minutes due to an apparent electrical fire. The crowd, dancers and event staff were forced to stand outside for over 30 minutes.
Many poms complained that the cold was causing their muscles to tighten, so they would have to re-stretch. Four members of the RHS squad, including a captain and all the drummers, were absent due to other obligations. The poms placed fourth overall with Cary placing third for the Captain's Award.
The third invitational was held at Northwest HS Jan. 31. With the help of their fellow teammates, the captains created a new routine for this competition. The competition consisted of seven schools. The team placed sixth and Elfassi placed fifth as captain. A new routine has given the squad hope for better results in the last competition.