Portables Support Population Growth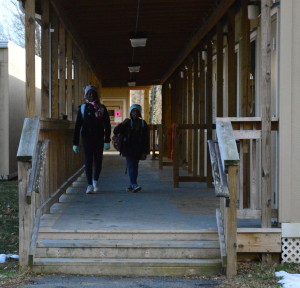 With a rapidly growing student population, many MCPS elementary schools are having to add portable classrooms. Countywide, there are cur rently over 9,000 elementary school kids spending much of their day in portables.
Lucy V. Barnsley Elementary School, which feeds into RHS, has the third most portable class rooms in Montgomery County. With limited space inside the main building, the school was forced to add portables. The school currently has 10 porta bles, and there are about 200 students in the por tables all day long.
Portables are temporary solutions, but many parents think that they should not even be an op tion. They are angry and concerned about safety. Barnsley PTA president Renee Estrada said, "Many parents complain about the main disadvantages: the bathrooms and walking in the weather, safety concerns and keeping the doors locked can create a great deal of interruption to the learning."
Parents particularly worry because of the on going rise in MCPS student population. This year, MCPS has 153,852 students in total. This is more than a 2,500 student increase from last year and over the past six years, the population has increased by more than 12,000 students. By next year, the popula tion is expected to increase by about 2,600 students making the total number of students about 156,452.
Not all parents oppose the portables, however. Jeff Smith is a Barnsley parent with a daughter in fifth grade. "I like the individual control tempera ture units and the water cooler; however, the nega tive is the inability to team teach," Smith said. In some classrooms in the building, there is a dividing wall that can be taken down so classes can interact and participate in lessons together.
Expansion of school buildings can be trouble some because the district has a tight budget and many expenses that have to be taken care of. Edu cation is the top priority for spending and the bud get doesn't provide much money for expansion. Michael Durso, vice president of the school board, was quoted in the Washington Post saying that the expansion cost will be about $700 million to accom modate all the new students in the county.
However, efforts are being made to solve the is sue by the year 2020. "We are excited that we are to get a 12 room addition that is scheduled to be completed for the 2017-2018 school year," Principal Andrew Winter said.