Swim and Dive Team Beats JFK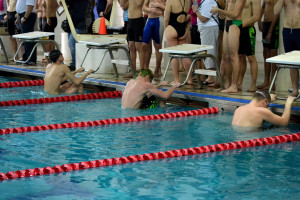 Getting their first win of the season, the Rams varsity swim and dive team beat John F. Kennedy High School, on Jan. 24 at the Martin Luther King Swim Center.
Many of the athletes hoped to do their best this meet. At the pancake breakfast held for the athletes before the meet there was a sense of camaraderie. "At this meet today I expect to do especially well. This meet should be a good meet for us," coach James Castonguay said.
Junior Griffin Alaniz beat the 500 freestyle record of 4:56 with a new time of 4:42:63 minutes. Many of his teammates cheered him on to beat the record while he lapped his competitors. By the time he finished the race, Alaniz had to wait for about three minutes for all of the others to finish. At this meet, Alaniz dominated his competition, getting first place in everything he competed in.
Freshman swimmer Rachel Fast said, "I love the ice cold feeling of the water when it touches your skin and the feeling of exhilaration when you jump into the water." She was excited for this meet because she had not competed for a while. Fast recommends swimming to everyone and said, "It is the most amazing thing you can do for your body, your soul and your mind."
RHS won first place with the womens team ranking 106-53 and the mens team ranking 121-47. Senior captain Amelia Hurley-Novatney was looking forward to her last meet said that she plans to swim in college. Hurley-Novatney does not think she will ever stop swimming and said, "It's like an addiction, you can't just stop [swimming]."
Although the team performed well at the latest Saturday swim meet, Castonguay said that the team will most likely stay in the same division, or go down a division, but definitely not go up one. The Rams have not been as successful this season, as they were last year but the coach is optimistic about the future. "It's been a good season so far, I'm looking forward to the ending being just as fun as the beginning," Castonguay said.