Johns Hopkins' Exhibit Glistens with Rockville Student's Work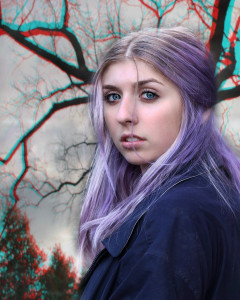 The Johns Hopkins' "Out of the Ordinary" Exhibit features art pieces made by high school students. RHS senior Adriana Castro's photo was accepted into the exhibit and was featured in the show Jan. 29.
The idea of the photo was supposed to be something unique and "out of the ordinary". Castro took a photo of senior Korbyn Carleton and used Photoshop to give the photo an unusual 3D effect, as well as to edit Carleton's eyes.
"I used Korbyn as the subject of my photo because her purple hair is definitely something you don't see every day," Castro said, "I thought it fit the assignment of a photo that's out of the ordinary."
Over 200 paintings and photography pieces were entered into the art show from 20 MCPS schools. First, second and third place winners were awarded at the show from the painting section as well as the photography section.
Castro's photography teacher Lisa Ryan was present at the art show, and said Castro's work was a huge hit. "3D glasses were available to use when looking at Castro's photo, and everyone loved it," Ryan said. "Teachers from others schools were so impressed with Adriana's work."
Next year, John Hopkin's will have a separate show for photography and another for paintings, so more students will be able to enter their photography pieces and they will be judged on different levels.