Two-Hour Delay Causes Push In Exam Week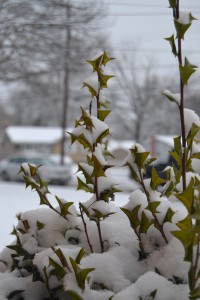 Snow and freezing rained poured down on Montgomery Country Jan. 12 and 14, causing streets to be hazardous for drivers. MCPS implemented two-hour delays on the first and third days of midterm exams, pushing the second exam of both days so they ended at 2:10 p.m.
Time is a limited factor during the weeks leading up to exams. Students must study several topics taught during the first semester. Some students have four or more exams. The delays benefitted students with the ability to study two hours more before their first exams in the morning.
"These two hours were vital, I don't think I've ever studied harder for my exams," senior Steven Fonseca said.
Since school ended at 2:10 p.m. on these two-hour delay exam days like a normal school day, students who would take a bus home did not have to wait after the second exam block. Usually, the second exam ends at 12 p.m., forcing students to look for another source of transportation.
If students had plans after taking exams, they would need to be rescheduled until later. Teachers are impacted the most because they must wait for students to take exams and stay even longer in school to grade them.
Many students studied, others slept in. The delays were an opportunity to excel on exams. Implementing this schedule on all exam days may be beneficial to students. Knowing exams start later, students can study late without losing sleep.
"When there is a delayed opening and if students wake up at their normal time, they will be able to study a couple more hours in preparation for their exams," Assistant Principal Bradley Rohner said.