Rock Climbing Club on the Rise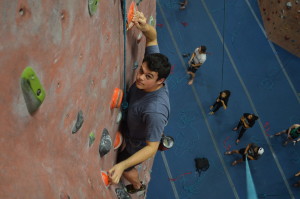 The rock climbing club, dubbed "Rock Squad," made its successful debut this fall, due to heavy student interest and support for the adventurous activity.
Led by math teacher and club supervisor Carmen Tong and seniors Austin Brahin and William Shropshire, the newly-founded club takes trips to Earth Treks each Tuesday, which features rentable climbing gear and various climbing walls for all levels of difficulty. The club offers a form of after-school fun each Tuesday that is both affordable and a great source of exercise.
Tong emphasized the financial benefits of joining the Rock Squad."The club is great because usually each climbing session costs $32, but the RHS member discount brings the price down to just $17," Tong said. "That's almost half-off each trip."
Senior Joel Sigal accompanied the club on one of its trips to Earth Treks and got much more action than he expected from a typical after-school club.
"It was such an exhilarating feeling to climb the walls, but it was also much more of a workout than I expected," Sigal said. "By the end of the day, I was exhausted."
Earth Treks is located conveniently right across from Richard Montgomery HS, which is only about 10 minutes away from RHS by car. Earth Treks is able to accommodate 25 climbers from the Rock Squad each week.
In addition to being a great source of exercise and entertainment, the Rock Squad is about making connections with friends by sharing passions and experiences.
President Austin Brahin said he made many memories with his friends while climbing with Rock Squad. "One aspect of climbing that I love is that anyone can do it, because there are so many levels of difficulty to it," Brahin said. "This made it easy for me to share my passion of climbing with others, because there is a challenge for everyone."