Ride On Buses Provide Excellent Service to Students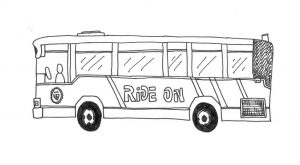 MCPS students have the privilege of being able to ride the Ride On buses for free, with the use of their school ID. There are spots all over Rockville so students can easily get to where they need to go.
With the simple use of a student ID, many RHS students can be found using the buses after school. "Sometimes I ride the bus home after practice," junior Anna Llewellyn said. "The bus drivers are really nice and they create a friendly environment."
Ride On buses make stops near RHS and areas such as the Flower Valley and Rock Creek neighborhoods so students can easily be transported to and from school for free. Students can stay after school and not have to worry about finding a ride home because of the convenient Ride On bus.
Junior Sophie Rosen said, "The Ride On buses are easy to use and are so convenient. I've only used them a few times, but I know that I'll never have to worry about finding a ride." The bus runs for most of the day with buses coming every 15 minutes or so to each stop. Students can be sure to get a ride whenever needed.