Successful Annual Lily's Hope Game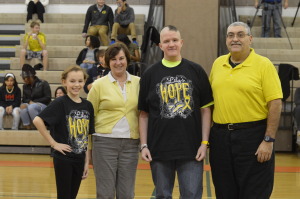 It was all love and true Rockville spirit on Monday night as both the boys and girls varsity basketball teams hosted Poolesville for the annual Lily's Hope basketball game.
The event focused on raising money for Billy Camut and David Robbins, two RHS students currently battling cancer. Proceeds came from the Booster Club donation, 50/50 raffle, bake sale and other donations. RHS was able to collect $1,200 to donate to the Robbins and Camut families.
Before both games there was an honorary tip off where Billy Camut and Lily Weaver tossed up the ball. After the boys game, Albert Camut, Billy's father, spoke to express his gratitude for the Rockville community. "I can't say how thankful I am for all of the money, the home cooked meals and the wonderful cards that we've received," Camut said emotionally.
The Lily's Hope Foundation started in 2011 when physical education teacher Frank Weaver's daughter Lily was diagnosed with Sarcoma carcinoma. Weaver and his wife started the foundation to help pay for Lily's treatment. Now that their daughter is cancer free, the Weavers are generous enough to keep their foundation going to help other sick children.
The stands were packed for both games. The boys team was able to beat Poolesville 51-31, but the Lady Rams lost 47-29. Regardless of the games outcomes it was a positive night for RHS for the Camut and Robbins families. Not only did they receive financial support, but they were also able to feel the support of the community that night.