BCC High School Hosts Fourth Journalism Night Fundraiser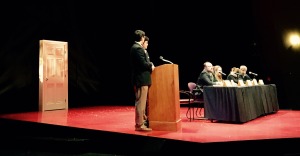 Bethesda Chevy Chase HS (BCC) had its fourth annual Journalism Night Dec. 6 as a fundraiser for their school's newspaper, The Tattler.
The fundraiser was held at Bethesda's Roundhouse Theatre. The panel discussion topic was "Dying to Tell Us," and focused on how some journalists risk persecution and imprisonment to cover important stories.
Panelists included journalists working for media corporations such as CNN and USA Today. Jay Solomon, a reporter for the Wall Street Journal, covered topics such as international diplomacy, nuclear weapons, terrorism and Middle East and Asian affairs.
Former British reporter Dave Clark discussed his five day captivity in Libya. The French Press Agency successfully pleaded with Muammar Gaddafi to have him released. Clark stopped working in conflict zones upon his release and is now based in the U.S.
Still, Clark said that war reporting is relatively easy, a quick way to rise to the top. "[Reporting] doesn't involve [a lot] of brain work," Clark said in the panel. War reporting is not like investigative journalism; the subject is directly in front of you, he said.
Sebastian Rotella, another panelist, was a reporter at ProPublica for 23 years and worked on assignments ranging from terrorism to the arts to the Mexican border. Rotella spoke about "zones of silence," places that are run by cartels where people just count bullets, and where here are no investigations of the crime scenes.
The audience at the event included fellow journalists, BCC students and parents. "This event is our biggest fundraiser of the year," BCC senior Julia Matterson said. "All the proceeds go towards The Tattler because MCPS does not provide enough money to print all of our issues."
The professional journalists ended the panel by giving the advice to student journalists in the attendance. Rotella told the students to always improve their craft as writers and to "keep your opinions under control." Clark told the students to never forget how to use a telephone, because it's a better way to get information from sources than merely relying on social media.