Rent Review
With breakout performances by junior Raina Stitt (Maureen Jonson) and Matt Hoffman (Roger Davis) RHS fall musical Rent: School Edition sets the bar high for the spring production with its impressive vocal talent and gripping story-line.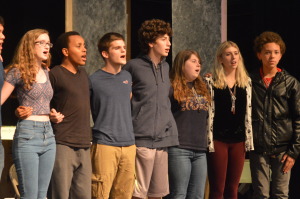 One of the male leads, senior Luke Schaefer, lends his dramatic cultivated from theatrical experiences since the sixth grade. This is his second show on cast, as he originally worked on stage crew.
Based on Puccini's opera La Boheme, Rent follows a group of impoverished friends struggling to break even in New York City during an AIDS epidemic. Written and composed by Jonathan Larson, the original show won a Pulitzer Prize, as well as a Tony Award for Best Musical.
Daunting as it may seem to tackle such a renowned musical, director and RHS English teacher Dana Sato was confident in the talent and resolve of her cast and crew. She worked incessantly to make sure the production was a smashing success by opening night.
Rent's band played loudly and proudly; their musical prowess added to the atmosphere and provided the audience with something to constantly enjoy throughout the production. However, at times they played so loud that it was difficult to hear what the actors were saying and singing.
Also featured was senior Korbyn Carleton, a budding musician and singer who has released her own original song "Breaking Chains" on iTunes last month. She plays Mimi Marquez, the love interest for Roger Davis. Their developing relationship takes center stage in the plot, and their shared musical numbers are among the best.
During the show, I was impressed by how well rehearsed it all seemed. I never noticed any stuttering or forgetting of lines; every character spoke and sang with confidence and resolve.
The set itself was impressive. It was built by the crew to match the setting of the musical. It looked sturdy and realistic; I never feared for the actors' lives as they danced and sang around and on the set.
Overall, the musical manages to have a light-hearted and hopeful tone despite its serious AIDS centered plot. The fun upbeat musical numbers such as "Rent" blended well with more melancholy pieces like "Without You," keeping the production feeling fresh and interesting.