Rockville's It's Academic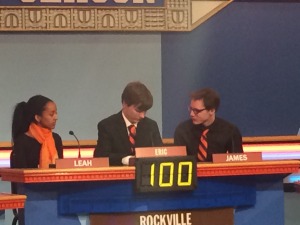 Although Rockville's It's Academic team does not attract the crowds that sports team's do, they are still performing at a high level as the A team continues with a record of 9-1.
In the upcoming weeks, the team will have two TV tapings almost back-to-back and two MABL (Montgomery Academic Beltway League) matches. The taped match will be at the NBC-4 studios. The studio in which the match will be recorded was used for the Kennedy-Nixon debates in 1960.
It's Academic player senior Eric Sebastian said, "Its Academic not only challenges me, but it provides a platform where I can test my intelligence against other schools and even teammates during practice."
Rockville has won the Metro Championship five times and is currently trying to bring home their sixth title. Head coaches Dr. David Goodrich and Michael Smith are coaching both team A and team B. More recently, Rockville won the It's Academic Metro Championship in 2008 and 2010.
Dr. David Goodrich said, "Over the years, we've had good intelligent teams and we hope to make another run for the title this year as well." Although it is a difficult feat, Goodrich believes that it is very possible for Rockville to pull away with the championship.
The Academic show on NBC-4's quiz show, is the Guinness-certified longest-running TV quiz show in history.