Spring Musical "Bye Bye Birdie" Coming Soon
Lights! Camera! Action!
Well, not quite yet. Currently, the spring musical, a production of "Bye Bye Birdie," is still under construction. The sets are currently being made, costumes are being put together and the rehearsals are underway.
"Bye Bye Birdie" takes place during the 1950's, and is the story of musical sensation Conrad Birdie. When Conrad Birdie gets drafted into the army, his manager Albert Peterson writes Birdie a song titled "One Last Kiss" and picks one random fan to receive Birdie's "Last Kiss" before he goes off to war. The musical focuses on this event and the chaos that follows it.
Rehearsals are running smoothly and the cast is working hard to prepare for the performances. Erica Ferguson plays the role of Kim McAfee, the lucky fan that is chosen to receive Birdie's "Last Kiss" in the play. "[Director Daniel Tobiassen] allows [the actors] to experiment with different ways of delivering lines and [interactions]," said Ferguson. This freedom allows performers to add their own flair to the musical.
A musical contains many more elements than a play does. The performers need to memorize lines, movements, songs and dance moves. Musicians must be hired or members of the school music department must get together and rehearse the music to play along with the band. A stage crew must construct the sets and man both the lights and sound equipment for all the shows.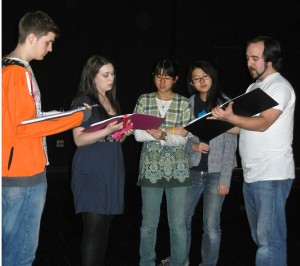 Rehearsals for "Bye Bye Birdie" did not start until early February, leaving the cast with a little less than two months to put together and perfect the show. "I am nervous about it because we only have a [limited amount of time]," said sophomore Tess Garraty who will play the role of Ma Peterson in "Bye Bye Birdie."
Being a part of the play, whether on stage, behind the scenes or in the pit, requires a large amount of time. Rehearsals for those performing on stage started Feb. 2, and are nearly every day until March 25. However, rehearsals are often broken into sections due to the fact that a single scene does not require an entire two and a half hour practice.
The production of "Bye Bye Birdie" plans to showcase the talent and ability of all RHS students involved. "It is a wonderful opportunity for students to perform," said parent Janet Bjodstrup. "Bye Bye Birdie" promises to entertain and amaze all those in the audience on both March at 7 p.m. and on March 26 at 2 p.m. and 7 p.m.
Related Media: Genevieve Dubroof comments on the spring musical.