High Hopes for Hoops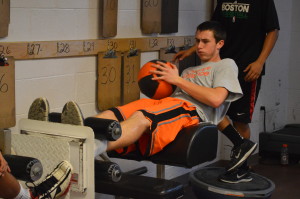 Coming off of a 3A West Division title, the varsity boys basketball team, coached by Steven Watson, has to overcome the loss of graduated players and severe injuries.
Last season, the team was led by five seniors who were the main contributors to the team's success. With alumni Nehemiah Jackson and Brian Ball (2014) gone, the team will need some new players to step up and fill the guard positions.
Alumni Jacob Griffiths-Randolph and Nnamdi Osakwe (2014) graduated, meaning the team will need to address the loss of two tall players whom they relied on for shot blocking, points in the paint and rebounds.
"The team will be smaller this year, but I'm excited to see what they can do," Osakwe said.
The players who show the most promise for this coming season are juniors Ben Wiebusch and Essex Thompson. They are the "players to watch" for this upcoming season according to senior Jack Blackwell.
Watson is optimistic for the 2014-2015 season. "I hope we are playing our best by February so we can try to have a deep run in the playoffs," Watson said.
Last season, Wiebusch was one of the leading scorers and both he and Thompson were the only underclassmen who started and got substantial playing time.
"I can't wait for the season to start," Wiebusch said. "We have a young team with good potential and some really good new players."
The team, however, is impacted by injury looking into this coming season. Last year, Blackwell, who planned on playing basketball during his senior year, broke his knee during football season. Sadly, this year during open gym, Blackwell injured his patella once again while running, which has taken him out for the season.
This is a costly injury as the Rams already lack depth at the positions intended for tall players. Blackwell would have brought versatility to the team due to his strength in the paint.