Seven Teachers Awarded With National Board Certification
Seven teachers at RHS have recently been named new National Board Certified Teachers, a very prestigious honor that takes a lot of time and hard work to achieve.
The teachers came from many different departments. The list of recipients includes math teachers Lindsay Junkins, Staci Lang and Karl Kraus, English teacher Carrie Vierra, history teacher Donald Reed and special education resource teachers Tom Rea and Wendy Roit. This brings the total number of National Board Certified Teachers at RHS up to 22, one of the highest in the country.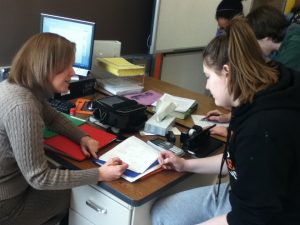 There are four parts to becoming certified. Teachers have to send in two video tapes of their class, with a twelve page analysis on their teaching. Then, they have to submit multiple graded assignments, and show how they graded them. Finally, applicants write about their professional life. "It really hones in on what you actually do day to day," said Lang.
To qualify for the process of being certified, teachers need to have a bachelor's degree, three previous years of teaching experience and must already hold the state's teaching license. The actual process take up to three years to get, as the certification has many steps.
The benefits for becoming certified are numerous. Teachers get a salary increase, as well as become able to teach anywhere in the United States. A certification also allows teachers to move up to advanced teaching careers such as being mentors or tutors, if they choose. "It [also] helps them to reflect on their instruction in a way that they don't have another opportunity to have," said Principal Dr. Debra Munk.
However, does all this work translate into actually being a better teacher? Lang said she thinks that was worthwhile, and Dr. Munk agrees, but do the students actually know that their teachers are certified? Sophomore Jennifer Woo, a student in Lang's pre-valculus class, said, "No, but I can assume [she is certified] because she's an excellent teacher."
Becoming a nationally certified teacher has many rewards, while it also takes a lot of effort. Students should know which teachers are certified, as well as how they got that certification to better understand the program. Lang said, "Although it is a very long process a�� it made me a more reflective teacher."