DARing Changes to 2015 Graduation; Graduation Location Changes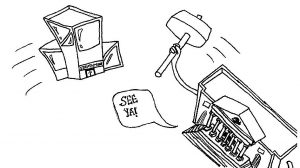 Janet Jackson first performed here after the sudden death of her legendary brother Michael Jackson and after showing up an hour late, Charlie Sheen appeared at the historic DAR Constitution Hall in Washington, D.C. Now the RHS class of 2015 will be added to this impressive list when they graduate from Constitution Hall in May.
Recent classes had to raise $4,000 to be able to graduate at Strathmore. RHS and MCPS covered the rest of the $16,000 fee.
Since the price to graduate at DAR is much cheaper than Strathmore, the senior class has less money to raise for graduation. They will also be able to use fundraising money for other end of the year events.
"I'm happy to know we have a strong fund for senior necessities now, since the money we raised won't all be put towards graduation," SGA President Kathleen McTighe said.
Senior class advisor Farron Riggs has been in communication with McTighe and is sure everything will work out with graduation this year. "It's going to go smoothly, we haven't done [graduation] there in a couple years, but we are going to make sure everything goes well and as planned," Riggs said.
Seniors will now have the ability to bring many relatives to graduation, a big bonus compared to only being allowed three tickets at previous Strathmore Hall graduations. "I was relieved when hearing that my grandparents would be able to see me graduate," senior Ben Glod said.
Students will have to metro downtown in their gowns, but it will be a small price to pay compared to the great location and generous amount of tickets.
Otherwise, paid parking is available at garages near the North Farragut Metro station, but students will still have to walk from there to Constitution Hall.
The historic venue is still worth the harsh commute for seniors, especially with the increase in tickets being given to each student to give to family members.
This change in graduation locations is ultimately beneficial in many ways. It not only saves money for the senior class now but also for the classes of the future. As the class sizes continue to grow, it was important that RHS made this adjustment.
Graduation is one of the biggest moments for seniors up to that point in their lives so far. Even though Strathmore is a beautiful venue for graduation, it was not a venue that could accommodate all family and friends.
Now at DAR, all loved ones will be able to attend graduation to witness this special event.
As a junior, I will have to wait a year to graduate, but for the class of 2015, graduation could not come any sooner. Graduating May 26, the senior class will be one of the first schools in MCPS to walk across the stage.