Math Classes Turn Tech-Savvy With TI-NSPIRE Replacing Older TI-84 Calculators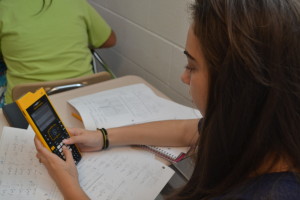 Math classes across RHS are introducing the all-new TI-Nspire calculators. RHS is the only school in MCPS to have the calculators in every math class.
The TI-Nspire, with 100 megabits of RAM memory, 3D graphing capabilities and a 16-bit color screen, is starting to replace the now "older" TI-84.
Math resource teacher Lindsay Junkins is excited for the change. "We had such success in our Algebra 1 classes that I asked if Rockville could be a pilot high school," Junkins said. Junkins believes that the price tag, well over $25,000, is worth the cost.
Another exciting function of the TI-Nspire is its ability to allow students to have their own logins, and for each calculator to be connected to each other. This allows teachers to send out assignments that students can complete on the calculators and then turn in once they are done. This would save money on paper and ink.
Sophomore J.T. Doyle likes the new calculators and the new challenges that come with them. "The new calculators are cool," Doyle said. "It's really nice now that I don't have to get out my warm-up sheet at the beginning of every class." While Doyle embraces the new changes, he said, "It's still not worth buying one of my own yet."
The TI-Nspire sells for $124.97, whereas the TI-84 sells for $89.97. Although they cost more, the new calculators offer a rechargeable battery and can charge between math classes, saving money that would have been spent on buying batteries.
Math teacher Staci Lang is looking forward to using the new calculators in her class. She believes it will improve the functionality and effectiveness of her classes, along with students' grades.
"We are going to be able to collect feedback very quickly from the students," Lang said. "I can immediately see where they might have troubles and where we need to focus more attention."
However, sophomore Felton Armstrong resents the change. "It's annoying; I don't see the need for the county to buy all these calculators when the old ones work just fine," Armstrong said. "I just learned how to use the old calculators; now I have to figure out this one." Along with the rather expensive price tag, it is going to take some time for these new calculators to settle in at RHS.