Varsity Girls Soccer Bounces Back From First Game Loss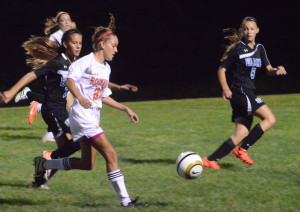 Rockville's varsity girls' soccer team played hard against rival school Richard Montgomery during their first game on Sept. 8, but lost the game 5-2.
Senior Lauren Goldstein had an outstanding game with two goals, one in the last 20 seconds of the game. Senior captain Sophia Dillion led the team along with senior captain Liz Hubbard. Senior goalies Greta Anderson and Sophia Romano stopped many shots made by the RM team during the game.
Freshman Lauren Giron played in the midfield position for the majority of the game. Girls' coach Jason Travis was extremely impressed with Giron's performance. "I think Lauren walks around the school like she's a senior; the seniors have really taken her in," Travis said. "She's going to be a big part of where we want the team to go."
Rockville played Blake on Sept. 10 and won 3-2. Dillion had two goals and sophomore Danielle Dean had one. The crowd was on the edge of their seats during the second half until the winning goal was scored by Rockville in the last minute of the game.